Seton Hall University Awarded $1.5 Million in Grants
Saturday, July 24th, 2021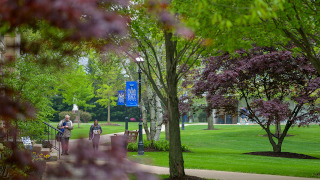 Opportunities for student success at Seton Hall are getting a significant boost thanks to a $1.5 million grant from the State of New Jersey through its Opportunity Meets Innovation (OMI) Challenge Grants program.
On July 12, Governor Phil Murphy and Secretary of Higher Education Brian Bridges, Ph.D., released the list of 35 schools receiving the almost $30 million in federal funds distributed through the OMI program. With this funding, awardee institutions will implement an array of best practices that foster student success, the attainment of degrees and provide model higher education improvements.
Based on the size of its student population, Seton Hall was invited to apply for up to $1.5 million in any of five distinct categories. The University submitted two projects: a First-Generation Forward initiative in the "Fostering Student Success" category and a Cultivating Research, Innovation and Talent at Seton Hall University initiative in the "Cultivating Research, Innovation and Talent" category.
Through its First-Generation Forward initiative, Seton Hall will expand academic support to first generation, Pell-eligible students through a systematic, interactive, comprehensive and multi-interventional plan that assesses student needs, monitors academic performance and provides increased and focused tutoring, advising, mentoring, supplemental instruction, and financial support. The project will complement the University's existing, highly successful New Jersey Educational Opportunity Program (EOP) in addition to established programming delivered through Upward Bound and Student Support Services.
"This project will include academic support elements found in EOP and will expand access to additional assistance for all first-generation, Pell-eligible students who are not currently being served," said Monica Burnette, Ph.D., interim vice president of student services, who drafted the First-Generation Forward proposal. "Expanded academic support; coordinated, proactive advising and mentoring; tutoring; and data analysis will provide a sustainable model by expanding a framework of student success."
The Cultivating Research, Innovation and Talent at Seton Hall University initiative will provide critical funding to stimulate student-research engagement with faculty mentors over the next two years as the University navigates the COVID-19 and post-pandemic landscape. The project will create interdisciplinary and collaborative research opportunities among faculty and students from different academic disciplines in alignment with specific goals laid out in Seton Hall's new strategic plan seeking to cultivate interdisciplinarity in research and create a premier student experience.
This project will provide structure as well as designated supports and resources to increase the number of students participating in faculty mentored research, said Michael LaFountaine, Ed.D., director of the Office of Grants and Research Services and the author of this proposal. "The mixed composition of academic disciplines and faculty appointments is expected to enhance student experiential learning and research opportunities. It will expose students to expertise and resources they might not otherwise get in a conventional mentor-pupil interaction in a research environment that is siloed."
These two newly funded projects align closely with the State Plan for Higher Education and they mitigate the pandemic's impact on students. Importantly, they also reflect aspirations in the University's "Harvest Our Treasures" strategic plan, which calls for a student experience that is "equitable and consistent" and "enhances student support and retention." Seton Hall's strategic plan also identifies interdisciplinary research as a priority, calling for the "formation of innovative partnerships and collaborations both internally and externally, enhanced access for all students to these programs and vital advising mechanisms that enrich academic outcomes and professional lives."
Seton Hall's president, Joseph Nyre, Ph.D., underscored the University's longstanding commitment to underserved students and to research. "Since 1856, Seton Hall has welcomed students seeking higher education, regardless of socioeconomic status," he said. "This has been marked by its outreach and support of first-generation students, many of whom come from families of modest means.
"In addition, through the pandemic we have seen the need for an interdisciplinary approach to finding solutions to existing issues. "Seton Hall excels in these areas, so this funding will strengthen our historic commitment to our students through innovative programs that seek to sustain and retain them, so they may flourish."
Categories: Campus Life, Education, Research