Seton Hall To Host Adjunct Faculty Information Fair on October 23
Wednesday, October 4th, 2023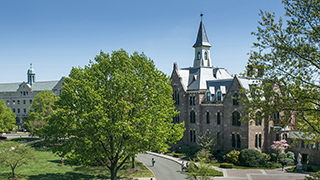 Seton Hall University will host an Adjunct Faculty Information Fair at 6 p.m. on Monday, October 23, 2023 in Bethany Hall on its South Orange campus.
At this event, attendees will have the opportunity to learn more about adjunct faculty teaching opportunities at all three campuses of the University including undergraduate programs, graduate programs, health sciences and law. University deans, as well as members of both the Office of the Provost and Human Resources, will be on hand to answer questions.
Registration for the information fair is now open and open to all interested community members and applicants.
The University accepts application materials year-round from qualified applicants interested in teaching on a part-time basis. Those interested but unable to attend the fair are welcome to submit their cover letter and resume.
Seton Hall is home to nearly 10,000 undergraduate and graduate students and offers more than 90 rigorous majors. Seton Hall's academic excellence has been singled out for distinction by The Princeton Review, U.S. News & World Report, and Bloomberg Businessweek.
The University offers day, evening and weekend classes which are offered at various times during the academic year during the fall, spring and summer semesters. As a rule, adjunct faculty may teach a maximum of two classes per semester, but most teach only one. The array of courses offered, as well as when they are offered, are driven by student needs and programmatic requirements.
Candidates can express an interest in teaching more than one discipline and in both graduate and undergraduate programs. For those interested in teaching in the undergraduate programs, minimum requirements are generally a master's degree. In a few select areas, less than a master's degree may be considered if the applicant has sufficient work experience and/or industry credentials. For those interested in teaching on the graduate-level, a master's degree is required. For the law school, a J.D. is required.
For more information about the event – including registration and Frequently Asked Questions about adjunct teaching at the University – please visit the Adjunct Faculty Information Fair page or contact Human Resources at [email protected].
Categories: Education