Proud New Pirates Ready to Start Their College Adventure
Friday, August 25th, 2023
Whether they flew in from across the country or traveled up the Garden State Parkway, members of Seton Hall's Class of 2027 have arrived! We'd like to introduce you to some of the very smart, happy, and inspiring students who are proud to call our campus home. Among this group of freshmen, we have a horse trainer with a mustang named Pippi Longstocking, a tennis player originally from Manchester, England, and a set of triplets from Jersey City who just can't imagine being apart. So, without further ado, here come our newest Pirates!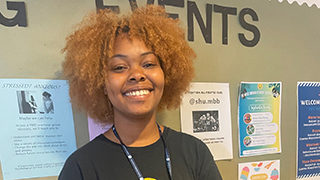 Latoya Roberts-Timmons
Latoya Roberts-Timmons is from Elizabeth, NJ, and is enrolled in the Business and Law, 3 + 3, Program. "Seton Hall has always been my dream school – since I was eight years old," she said. "I always wanted to be a lawyer." She plans on specializing in Corporate Law and was especially impressed by the Stillman School of Business. "It was just different than any of the other schools I visited. Classes are small. Dean Strawser knew all the students there by their first names. I didn't see that anywhere else." She also talked about the importance of Seton Hall's employment rate numbers (98.5 percent for 2022) and how in her internship at the Elizabeth law department, the office (judges, lawyers, administrators) is filled with Seton Hall graduates.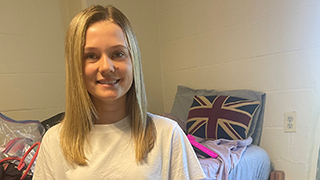 Niamh Campbell
Niamh Campbell calls both Phoenix, AZ, and Manchester, England home. A tennis player, she spent the last two years at the Rafa Nadal Academy in Madrid, Spain where she was chosen valedictorian and player of the year. Niamh first visited Seton Hall back in April and felt a strong sense of community right away. Returning with her parents on Move in Day she said that the experience of being cheered as they drove onto campus "was a great feeling." Niamh noted that Seton Hall also offers the perfect mix of sports and academics. A member of the women's tennis team, she plans to study sports media and said, "I've been privileged to live and travel throughout the world, but I feel like I'm home now at The Hall.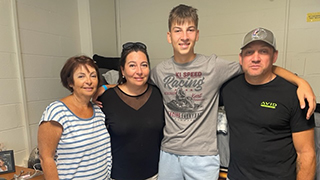 Zachary Iosim and Family
Zachary Iosim of Old Bridge, NJ, is looking forward to entering the Stillman Business Entrepreneurship Program. Even in high school, he was an entrepreneur who participated in a competition with 100 days to train a wild mustang from Nevada, called Pippi Longstocking, from wild to mild. "How well I do at training and selling horses always is reflected from her," said Zachary who is following a family tradition to the Hall, after his two sisters Valerie and Alexandra, and his mom, IHS Assistant Dean Mariana Kaplan-Iosim, a three-degree Pirate, who received her Ed.D., in Education Leadership Management and Policy last year. "It feels really good. I'm happy that he decided to join the Pirate Family," says mom.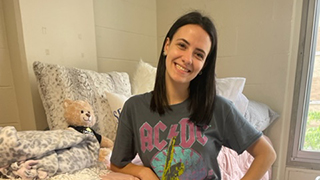 Isabella Montanez
Isabella Montanez of Middletown, NJ, is a biology major in the 3+3 physical therapy program. "I'm really excited. I've been waiting to start college for physical therapy for six years and to finally be here." A competitive gymnast and state champ, she understood all about injuries and the value of physical therapy. She had visited the campus to see her cousin, now a senior here, and knew that Seton Hall was for her. Other plans: "I'm thinking about trying out for cheerleading."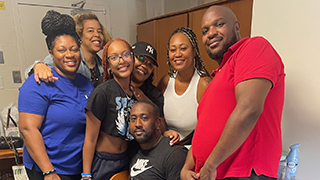 Jordyn Blanks and Family
Jordyn Blanks of Long Island, NY, was also attracted to the University's 3+3 Physical Therapy program. "I used to go to physical therapy with my stepdad. I was really interested in it and I used to help him. I found a love for it. I don't know if I want to open up my own physical therapy business or if I just want to work with somebody else, but I do want to end up in the medical field." Looking forward to being active in everything Seton Hall has to offer, she added, "I'm a little bit scared, but I'm mostly excited and I'm ready to start my college experience."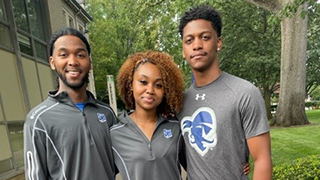 Triplets Dante, Miya-Ashlee, and Amauri Younger
Dante, Miya-Ashlee, and Amauri Younger are triplets from Jersey City, wanted to go to college together. Seton Hall made that dream possible. "We've always been together," Miya-Ashlee said, looking up at her brothers standing a few inches taller. "It's hard. We can't be a part. It's lonely." The Youngers, who were honors students in high school, will be living in Aquinas Hall this year. It took three cars to haul everything they needed to bring to school. Each sibling has their own plans for college: Dante is a biology major, Miya-Ashlee will be studying journalism, and Amauri is majoring in interprofessional health sciences. After settling into their dorms, Dante said he was feeling "kind of nervous about leaving my parents for the first time in a long time." "I feel sad and happy. It's a mix," Amauri added, knowing his brother and sister were probably feeling much the same.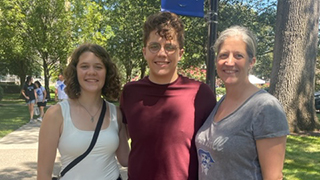 Demetrios Paparsenos and Family
Demetrios Paparsenos is from Livingston, NJ, by way of Sydney, Australia. He moved to New Jersey from Sydney a few years ago when his father, Jon Paparsenos '99, was selected as Seton Hall's Vice President for University Advancement. Demetrios plans on pursuing a double major in Marketing and Finance and hopes to create a chain of restaurants featuring Greek Fusion food, noting that "food is a universal language." His mother, Leslie Paparsenos '99 relayed how this was in some ways a "full-circle homecoming." She and her husband met at Seton Hall and were both "pretty surprised" when they learned Demetrios had filed for Early Admission at the University that, in many ways, helped facilitate his birth. Although "always a big basketball fan," Demetrios said it was his experience "sitting in on three Stillman classes that sealed the deal."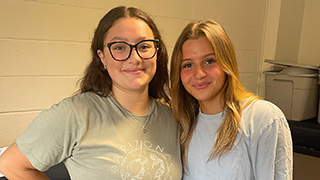 Alexandra Griesbauer and Vanessa Buffa
Close friends Alexandra Griesbauer from Hoboken, NJ, and Vanessa Buffa, from Hamburg, NJ, are excited to be roommates. Alexandra shared: "I've been an athlete my whole life and I want to keep athletics in my life and go the athletic training route in the dual degree program." Said Vanessa, a political science major, "I'm hoping to eventually move on to law school and become a lawyer. We'll see how everything goes. I think it'll be fun."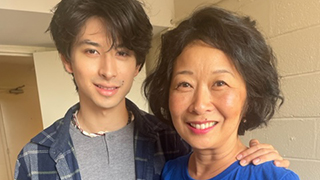 Maxwell Kane with Mom
Maxwell Kane of Las Vegas, NV, plans to go into banking and is majoring in Mathematical Finance. Finally starting his college experience is "so surreal, all at once, so that's pretty cool." He loves being close to New York, the banking and finance hub. Chess club also may be in his future. He has participated in the Las Vegas International Chess Festival National Open. Says mom, Nancy Kelly, "College is a great time. The table is set with everything and anything you'd want to try before you decide and dive into one particular thing."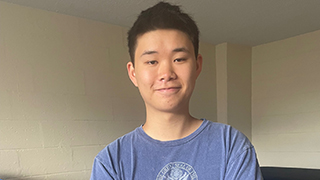 Joshua Yue
Joshua Yue of San Marino, CA, an International Relations major in the 3+2 bachelor's-master's program in Diplomacy and International Relations. "Being close to New York definitely attracted me here, the close proximity to the United Nations headquarters." Looking ahead, Joshua shared, "I hope to be serving in a foreign embassy, maybe in the Middle East, where I could try to settle conflicts in the area."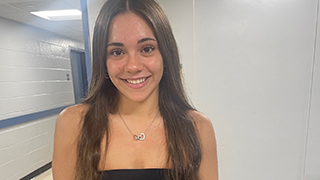 Jaclynn Feoli
Jaclynn Feoli is from Summit, NJ, and has come to Seton Hall to study Accounting within the Stillman School of Business. She is a legacy student whose dad, Michael Feoli, played baseball for the University "back in the 80s." She chose Seton Hall for the strength of its business program as well as its proximity to home and the opportunities of the New York City job market.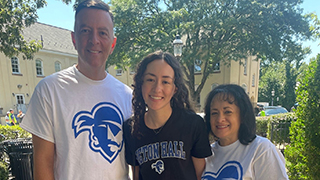 Jenna Ammatuna and Family
Jenna Ammatuna is from Staten Island, NY, and is seeking a degree based in the Liberal Arts, "maybe Communications and/or Psychology," she said. She chose Seton Hall because of its atmosphere, noting that it just "felt right." She's excited but a little nervous and interested in learning more about extracurricular dance and "pretty much everything."
Avery Anderson with Mom
Avery Anderson is from Edison, NJ, and is enrolled in the 6-year Speech Language Pathology program within the School of Health and Medical Sciences. She was taken by the strength of the program as well as its reputation. She was also struck by "how nice campus is" and how "incredibly accommodating" Seton Hall has been. She has been involved in competitive dance for many years and intends on trying out for Seton Hall's Dance Team.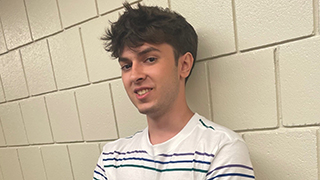 Alex Gimourginas
Alex Gimourginas is from Beachwood, NJ, and is a Computer Science major considering a double major with Finance. He is part of the Honors Program and is an MLK Scholar. He chose Seton Hall for the strength of its programs and employment numbers (98.5% employment rate for 2022), its proximity to the NYC tech job market and the University's emphasis on internships. "College is supposed to gain you access to a job, a career – Seton Hall does that."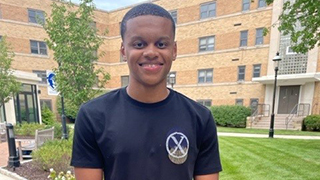 Denzel Atkinson
Denzel Atkinson, from the Bronx, New York, was able to move into his room at Boland Hall a few days early, which gave him a chance to join the Gen One program for a trip to Broadway. Denzel is part of Seton Hall's 3+3 program with a combined major in biology and physical therapy. His own experience with physical therapy following a knee injury in high school inspired him to pursue a doctorate in the field. An internship at St. Barnabas Hospital reinforced the idea that being a physical therapist was perfect for him "and just what I wanted to do."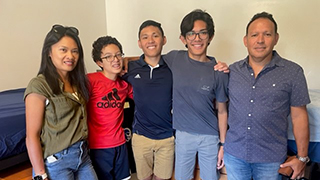 Ed Vella with Family
Ed Vella is a Political Science major from Summit, NJ. He is enrolled in the Honors Program and is a member of the Buccino Leadership Institute. He was drawn to Seton Hall because of its "lovely campus" and its proximity to both home and NYC. A self-avowed history buff, he "loves the curriculum of the Honors Program" and, as a writer, looks forward to working with WSOU, The Setonian and perhaps the Diplomatic Envoy.
Joe Calabretti
Joe Calabretti is from Perkasie, PA and is set to study Sport Management within the Stillman School of Business. Recruited for the Seton Hall Pirates baseball team, Joe plays third base and said he "really values the relationships he's forged with the coaches here at Seton Hall. "The coaches are great here and I'm really happy to be at Seton Hall."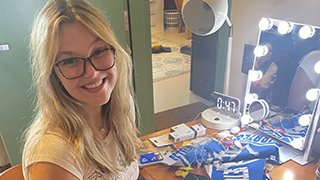 Abby Burian
Abby Burian hails from Syracuse, NY, and has come to Seton Hall to study Business Management. Before committing to the University she visited a number of other colleges, including Penn State, Pitt and the SUNY campus in Albany, "but Seton Hall felt like home when I got here," she said. Besides that feeling, she noted the importance of employment numbers, the emphasis on internships as a pathway to a new career and the proximity to the NYC job market as reasons she chose Seton Hall. She said, "I'm excited and nervous to start a new life in a new world."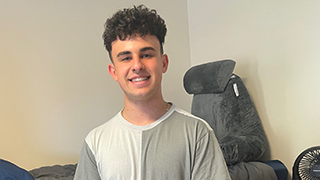 Mason Bashkoff
Mason Bashkoff is from West Orange, NJ, and is studying Sport Management and Marketing within the Stillman School of Business. Chosen to the Buccino Leadership Institute, Mason enjoys music, photography and videography and has spent the summer working with Pirates Sports Network and handling social media duties for the men's basketball team.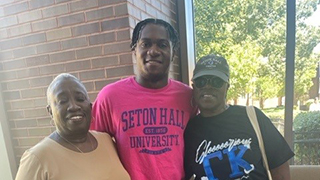 Jaden Jamison with Mom and Grandmom
Jaden Jamison comes to Seton Hall from North Brunswick, NJ, to study Finance in the Stillman School of Business. "He came to Seton Hall because he "really liked the Business School." A product of St. Joe's in Metuchen, he said he "looks forward to continuing at a Catholic university," and is "excited to meet new people and branch out." In his free time, he plans on playing club basketball and seeing what else the University has to offer by way of extracurriculars.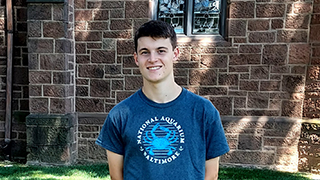 Jonathan Marone
Jonathan Marone is from Margate, New Jersey and has come to Seton Hall to study International Diplomacy with an emphasis on international business. He attended a Catholic high school and chose Seton Hall in part because it is a Catholic university and also because of its proximity to NYC and the UN, the University's UN programs and its expansive employment opportunities. He's interested in history, government (gerrymandering in particular) and chess as well as running and swimming. He hopes to join chess club and is open to other extracurricular clubs and activities.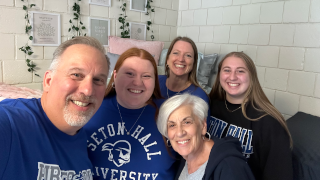 Margaret Fisher and Family
Margaret Fisher of Middletown, NJ, has grown up in a family where Welcome Home to the Hall certainly resonates. A Buccino Leadership Institute freshman, majoring in Communications and considering a dual major in Theater, she is attending the inaugural class of the College of Human Development, Culture, and Media (CHDCM). Coming from a Proud Pirate family including her grandmother, aunts, uncles, cousins, and her own alumni parents, Mary "Mimi" and Paul Fisher, she loves being a 10th degree Fisher Setonian in the making.

"Buccino is all about helping us to grow into leaders and grow as people, too," says Margaret. She is excited to experience everything that the University has to offer from Student Activities Board to WSOU and is interested in the Rome Connections program. She loves singing alto in the chorus and her love of musical theater flourished at Mater Dei Prep and Red Bank Catholic High School. This standout actress has played the comedic role of Evangeline Harcourt in Anything Goes and she can't wait to sing both in the University Chorus and at Mass at the Hall. Among her best Pirate Weekend memories are attending the Big East Tournament and the finals with her dad, and she and her suitemates have already purchased their season Pirates Basketball tickets.
Learn more about the Class of 2027.
Categories: Campus Life