Princeton Review Ranks Seton Hall Law Top 25 Percent for Careers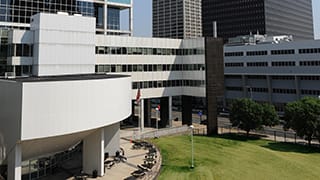 The Princeton Review has again ranked Seton Hall Law among the "Best Law Schools" in the United States. As part of their ranking, The Princeton Review focuses on what it calls "Career Rating" which "is based on the confidence students have in their own school's ability to lead them to fruitful employment opportunities, as well as the school's own record of having done so."
Importantly, the Career Rating for a law school takes into account objective measures, such as median starting salaries of graduates, the percentage of students passing the bar the first time, and the percentage of graduates employed in a job that requires bar passage.
Using that methodology, The Princeton Review ranked Seton Hall Law 43rd, within the top 25 percent of all accredited law schools in the nation for Career Rating.
"Career has long been a primary focus at Seton Hall Law," said Interim Dean John Kip Cornwell. "We prepare our students for the practice of law and our alumni serve at the highest levels of business, bench and bar. I am not surprised that we were recognized among the upper echelon of law schools in career preparedness, but I am impressed by the spectacular accomplishments of our graduates – and by our dedicated faculty, who prepare our students for excellence."
Although The Princeton Review does not aggregate its scores in order to come up with an "overall ranking" for Best Law Schools, Pepperdine Law School Dean Paul Caron – a highly regarded authority on law school rankings and author of TaxProfBlog – did.
Caron notes that he calculated "Princeton Review's overall law school rankings, giving equal weight (20%) to each of the Admissions Selectivity, Academic Experience, Professors: Teaching,Professors: Accessibility, and Career Rating rankings."
In Caron's TaxProfBlog calculation using The Princeton Review numbers, Seton Hall Law is 51st in the nation on "overall ranking," placing it firmly within the Top Third of "Best Law Schools."
Seton Hall Law also ranked #1 in the nation for State and Local Judicial Clerkships.
"Employers rightfully place a high value on a judicial clerkships," said Associate Dean Brian Sheppard. "Clerkships allow our graduates to refine their mastery of the law and its processes under the direct tutelage and mentorship of superior and appellate court judges at both a state and federal level. That translates into a comprehensive skill set for our graduates that is well reflected in the employment numbers of our graduates post-clerkship."
The methodology for The Princeton Review's Best Law Schools of 2023 ranking is as follows
The Princeton Review's law school rankings are uniquely based on data the company gathers from surveys of administrators at the law schools as well as surveys of students attending the schools who rate and report on their experiences at them. The rankings for 2023 are based on surveys of administrators at 168 law schools in 2021-22 and surveys of 17,000 students enrolled in the schools over the past three academic years.
More than 60 data points are factored into the company's ranking list tallies. Of the 14 categories of ranking lists, six lists are based on student- and administrator-reported data. Five are based solely on student data, and three are based solely on administrator data.
…On average, surveys from 101 students per school were tallied for the 2023 rankings. The administrator survey requested institutional data on the school's academics, selectivity, acceptance and graduation rates, faculty, and career services among other topics.
Categories: Law