University Announces New Scholarship Initiative, Expanding Access to Graduate School
Wednesday, April 27th, 2022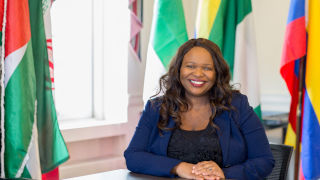 Students starting graduate school in the Fall of 2022, will have access to new scholarship resources funded through the University.
The University's Office of Graduate Affairs recently announced the expansion of its special scholarship initiative for students who will be pursuing master's degrees beginning this fall.
Incoming graduate students, who are beginning select programs at the University, will have access to additional financial support to make graduate school more affordable.
The graduate scholarships are being funded through a grant that applies to a select group of master's programs. First established in 2020 for alumni of the University, the expanded fund will supplement the substantial scholarship resources that are already available for all graduate degree studies.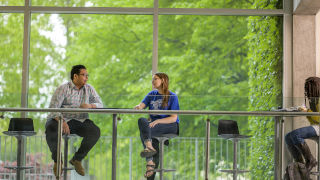 Flexible evening, weekend and online programs are designed to make balancing school and work easier.
Seton Hall offers more than 140 graduate, certificate and continuing education courses on a full-or part-time basis. Online and on campus graduate programs cover in-demand fields including business analytics, communications, education leadership, school counseling, healthcare administration, occupational therapy, law, nursing, data science, social work and more.
Graduate programs in business, nursing, non-profit management, health law and medical sciences are consistently recognized for their excellence by U.S. News and World Report. Nearly 4,000 graduate students attend Seton Hall.
"In the current labor market, an increasing percentage of jobs are requiring advanced degrees," explains Associate Provost for Academic and Graduate Affairs Christopher Cuccia, Ed.D. "A graduate degree generally offers numerous benefits professionally — whether someone wants to switch fields, advance in their current role or differentiate themselves among the competition. Furthermore, if someone's interest is in personal enrichment, there is nothing better than being an active, life-long learner."
Graduate programs are designed with working professionals in mind. Many classes take place in the evening and on weekends, and are available online, on-campus or in hybrid format.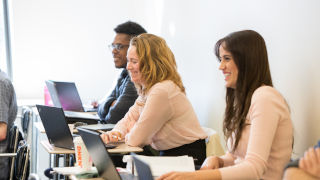 What Great Minds Can Do: Nearly 4,000 students are enrolled in graduate programs at Seton Hall.
The South Orange campus hosts many graduate classes, while nursing and graduate medical programs are based at the state-of-the-art Interprofessional Health Sciences campus in Nutley, NJ. Students pursuing law degrees are based at the Seton Hall Law School in Newark. A growing number of programs, such as data analytics, international affairs and school counseling are fully available online (both synchronous and asynchronous). Hybrid options, which offer a mix of on-campus and online classes, give students more flexibility to balance academics with work/family responsibilities.
Along with its nationally recognized graduate programs, students pursuing advanced degrees at Seton Hall also have access to career services that include professional networking, career development, resume building and interviewing. The University sponsors speakers and other special events that allow graduate students to connect with faculty, fellow students, and alumni to help build their professional network and gain a deeper understanding of the world. Graduate students have access to a state-of-the art recreational facility and a world-class library containing a collection of nearly 6 million print and digital titles.
Students who are accepted for Fall 2022 enrollment will be considered for a University Graduate Scholarship to help defray tuition costs for their first year of graduate school. Students can enroll in either part-time or full-time study and must carry at least six credit-hours per semester to receive this funding. In addition, the University offers financial aid options and outside scholarships to help make earning an advanced degree more affordable.
To learn more about Seton Hall's graduate programs, applications, and scholarship opportunities, please visit our website.
Those inquiring through this online portal will receive an application fee waiver.
Categories: Education