New Innovative Graduate Programs Cater to Diverse Career Aspirations
Thursday, June 15th, 2023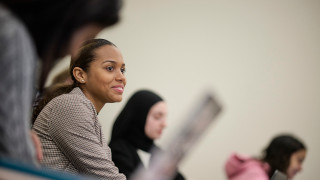 Seton Hall University, an innovator in forward-thinking education, proudly introduces a range of cutting-edge graduate programs designed to empower aspiring professionals with the cross-disciplinary skills and knowledge needed to succeed in emerging industries. In response to the evolving job market, these programs have been meticulously crafted to address the specific demands of the financial technology, digital media, and applied sciences and engineering fields.
A New Era of Graduate Education
In an era defined by rapid technological advancements, Seton Hall remains committed to providing innovative graduate programs that prepare students for the careers of tomorrow. These newly introduced programs reflect the University's dedication to staying ahead of the curve and ensuring graduates are equipped with the necessary expertise coupled with a competitive edge to excel in their chosen fields.
Thrive in the STEM Workforce
To meet the demands of the 21st-century STEM workforce, the College of Arts and Sciences introduces the M.S. in Applied Physics and Engineering program. Through an interdisciplinary curriculum, this two-year program equips students with the knowledge and professional skills required to become indispensable contributors to society. By blending advanced applied physics with engineering fields such as nanoscience, quantum engineering, renewable energy research, condensed matter physics, and material science, graduates will possess a diverse skill set that aligns with the needs of modern industries. They will be at the forefront of scientific research, technological innovation, and solutions to our most pressing global health, energy, climate, and other challenges.
Master the Intersection of Finance, Technology and Analytics
The financial technology sector is experiencing unprecedented growth and the Stillman School of Business understands the need to equip professionals with a unique blend of dynamic finance, data analytics, and technology skills. The new M.S. in Financial Technology and Analytics (MFTA) program is specifically designed to meet this demand. Through a comprehensive interdisciplinary curriculum, students with a strong math and science background will gain expertise in the latest financial technologies, learn advanced data analytics techniques, and develop critical problem-solving abilities. Graduates will be well-prepared to excel in roles that require a deep understanding of the intersection between finance and technology.
Excel in the Digital Media Landscape
In the dynamic world of digital media, effective communication is paramount. The accelerated, one-year M.S. in Professional Communication and Digital Media program offered by the emerging College of Human Development, Culture, and Media is tailored for individuals seeking to thrive in this rapidly evolving landscape. Students will immerse themselves in courses that cover digital communication strategies, media production, organizational communication, and interpersonal communication, all informed by human-centered principles. By honing their skills in this comprehensive program, graduates will be prepared to navigate the complexities of the digital media ecosystem and excel in a variety of roles, such as digital marketers, content creators, social media managers, and communication specialists.
With the introduction of these innovative graduate programs, Seton Hall demonstrates its commitment to providing students with tailored educational experiences that align with their diverse needs and unique aspirations. By offering specialized curricula, access to industry professionals, and opportunities for hands-on learning, the University ensures that graduates are well-equipped to tackle the challenges of an ever-evolving job market and make a lasting impact in their chosen fields.
Seton Hall invites ambitious individuals with a passion for financial technology, digital media, or applied physics and engineering to embark on a transformative journey by enrolling in one of our specialized graduate programs.
Inquiries and applications for the Fall 2023 semester, and beyond, are now being accepted. For additional information, please contact the Office of Graduate Affairs.
Categories: Arts and Culture, Business, Science and Technology