Liberi Tutti! A New Play, Presented at the 2022 Rimini Meeting
Friday, September 2nd, 2022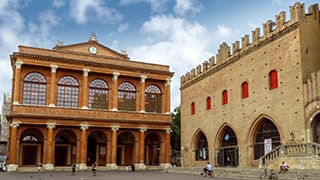 The Cavour square in Rimini, Italy
The G. K. Chesterton Institute for Faith & Culture and the 2022 Rimini Meeting is pleased to announce that on August 20, 2022, the play Liberi Tutti! was presented as the inaugural event of this year's meeting at Teatro Galli in Rimini, Italy. Directed by Otello Cenci and based on G. K. Chesterton's The Surprise, the production was highly acclaimed by members the press and the attending public.
Liberi Tutti! is one of many collaborations between G. K. Chesterton Institute for Faith & Culture and the Rimini Meeting. Past collaborations include the state presentations of Chesterton's works including the poem "The Ballad of the White Horse" (2011), the book Manalive (2013) and the presentation of an exhibit entitled "La Casa di Chesterton" (2013), which received over 60,000 visitors in one week.
The main theme of the play is man and his desire for freedom: sometimes uncomfortable, often risky, but always indispensable. The protagonist of Liberi Tutti! is a puppeteer with a noble heart who writes a simple fairytale comedy to show that telling a story without bad characters and evil deeds is possible. The bet is won, but the puppeteer is not satisfied. For his puppets, he wants a more ambitious future; he does not want them to interpret his work with obedience. For them, he dreams of the miracle of being, and not just acting.
Liberi Tutti! was inspired by a lesser-known book by G. K. Chesterton, The Surprise (1931), which was written by the English writer for a presentation at the Beaconsfield Theatre in the United Kingdom, his adopted town. The plot has been reinterpreted for a contemporary audience by Otello Cenci and Giampiero Pizzol, focusing on man and the intimate questions that that animate him while addressing with wit and a surprising attitude the themes of the free love passions and the desire for happiness.
Otello Cenci is the Director of the Performing Arts Division at the Rimini Meeting and Creative and Artistic Director at Made Officina Creativa. He has produced stage adaptations of works by T. S. Eliot, A. Camus and G. Leopardi as well as TV productions (RAI2), and the stage production of Aldo Finzi's "La Serenata al Vento," and has also directed productions of works by Shakespeare, Thomas More and Paul Claudel among others. He has been collaborating with the G.K. Chesterton Institute since 2011 on several stage productions, including 2011 and 2013 stage productions.
The G.K. Chesterton Institute remains grateful to the Rimini Meeting and Otello Cenci for their invitation to take part again in the 2022 meeting and for the opportunity to bring Chesterton's work to an international stage.
The production Liberi Tutti! at this year's Rimini Meeting was also highlighted by various Italian media. Please see below for a sampling of coverage:
Categories: Arts and Culture, Faith and Service