Seton Hall Law School Leadership Fellows Receive Bar Award for Pro Bono Service
Thursday, February 23rd, 2023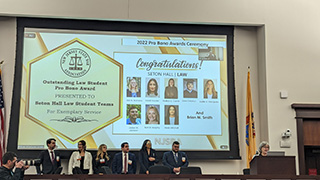 A group of nine Seton Hall Law students (and former students) received an award from the New Jersey State Bar Association for their work in developing a series of informational videos for survivors of domestic and sexual violence who represent themselves in restraining order hearings.
The students received the "Outstanding Law Student Pro Bono Award."
Founded in 1899, this is the first year the NJSBA has offered the award for students. In total, this year the NJSBA recognized 20 individuals across six award categories for their "outstanding commitment to providing pro bono legal services to New Jersey's underserved residents"; nine were Seton Hall Law students – all of whom were part of Law Professor Paula Franzese's Leadership Fellows program, which is comprised of second, third and fourth year law students with demonstrated leadership ability and/or leadership potential.
"This is a fantastic achievement," Professor Franzese said. "The groundbreaking work that our students did continues to be used to guide victims of intimate partner violence on their rights and ways to achieve safety and redress."
The recipients of the NJSBA award are Erin N. Romano, Sarah Souaid, Mallory E. Garvin, Emre Tutuncu, Kaitlin R. Principato, Jaden W. Jackson, Brian M. Smith, Kiah B. Murphy and Alexis Mitchell.
In an article on the awards by the NJSBA, Alexis Mitchell was asked: What interested you in performing pro bono service while still a law student?
Mitchell responded:
I had the lifetime honor of being a student in the Leadership Fellows Program for the Class of 2022. This pro bono program was established and has since been led every year by Professor Paula Franzese, a person nationally recognized for her legal eminence in housing justice and her passion for inspiring servant leadership in her students. Professor Franzese always told us, "There's a force that meets good with good," and advised us not to wait for someone else to do good, but to ourselves be the person that meets every problem with a viable solution. This encompasses the way she meets the Fellows' desire to help with the direct tools, guidance and contacts to make it happen.

The Leadership Fellows Program encouraged us to seek out needs in our community and use our unique position as law students to provide relief. Our final projects included pro bono services ranging from a coat drive to the video advocacy project for survivors of domestic abuse in obtaining necessary protection. We all leaned into the program and inspired change that will continue to inspire change.
Jaden W. Jackson, who graduated in 2022 and is currently clerking for Judge Veronica Allende of the Hudson County Superior Court, accepted the award on behalf of the Seton Hall team. When accepting the award Jackson noted that the work was "a community project, which was built by a village consisting of law students, attorneys, paralegals, translators, film professors, film students and more." He also told the audience of attorneys, judges and community members that the project for him had "hit home in a very profound way" as he grew up in a household "plagued by domestic violence." He shared that his mother, learning of his work said: "This is going to help so many families live a less fearful existence. If there were resources like this when we escaped, I think our lives – and your childhoods – would have been a much safer, happier, time."
Categories: Law