Law Professor Margaret Lewis is Featured in World Media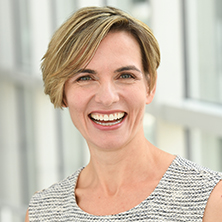 As the 100th anniversary of the Chinese Communist Party approaches this July, officials and media outlets from around the globe are contacting Law Professor Margaret "Maggie" Lewis to provide her expertise and analysis of the legal policy implications today concerning China and Taiwan with an emphasis on criminal justice and human rights.
Professor Lewis has been a Fulbright Senior Scholar at National Taiwan University, a visiting professor at Academia Sinica, a Public Intellectuals Program Fellow with the National Committee on United States-China Relations, and a delegate to the US-Japan Foundation's US-Japan Leadership Program. She was recently elected a Life Member of the Council on Foreign Relations and has participated in the State Department's Legal Experts Dialogue with China, testified before the Congressional-Executive Commission on China, and is a consultant to the Ford Foundation.
Her recent media appearances include The Guardian, Newsweek, Globe and Mail, and Inside Higher Ed.
Her Guardian interview on 'Two Sessions': China expected to unveil new controls on Hong Kong, highlights President's Xi Jinping's consolidation of power and the unveiling of the 14th five-year plan. With 3,000 delegates in Beijing this month for the two top annual political meetings, the National Committee of the Chinese People's Political Consultative Conference (CPPCC), and the National People's Congress (NPC), Lewis discusses the significance of this importance occurrence.
It's not that any one thing will make us suck in a collective gasp, but it's important in that it gives you a sense of the priorities of the leadership, and the language they're using … and how much Xi is being elevated even further in the rhetoric.
Inside Higher Ed referenced Lewis's recent scholarship in Reconsidering the 'China Initiative.' The article examined the Department of Justice's November 2018 China Initiative designed to counter national security threats emanating from the People's Republic of China. The piece analyzed Lewis' law review article titled "Criminalizing China" in The Journal of Criminal Law and Criminology.
While there are illegal activities in the United States that are linked to the Chinese government, an over emphasis on national security and a "China threat" can fuel the stigmatization of Chinese Americans, Chinese immigrants, and Chinese nationals working in the United States. This has ramifications not only for those communities, but for greater American society by undermining our values and harming our economic competitiveness.
Lewis recommended Justice's approach should be "country-neutral" and not tainted by the concept of China-ness based on nationality, ethnicity and related expressions.
The more we can frame this in a country-neutral manner and try to figure out the behaviors we're concerned about, that's a better path than saying this is about China specifically. There might still be more cases involving China -- I don't think we need to have a proportional representation, 'where's the Bolivia case?' -- but I do think it makes a difference to say, 'we're starting out with concerns about nondisclosure in federal grants, about shadow labs in other countries,' and follow wherever that behavior leads rather than say, 'China is the threat.'
On March 6, Lewis was featured in a Chinese American Scholar Forum webinar, Department of Justice's China Initiative: Debating Future Perspectives alongside Jay Bratt, Chief of the Counterintelligence and Export Control Section, The National Security Division, U.S. Department of Justice. The webinar was moderated by Brian Sun, former federal prosecutor and trial lawyer.
Lewis shared, "So what we are seeing overall and this not just in the China Initiative is this increasing securitization of the US-People's Republic of China relationship, that national security concerns are on the rise across the board." Posted to YouTube, the discussion has generated more than 2,657 views in its first few days.
Newsweek interviewed Lewis on the non-binding concurrent resolution introduced by Congressmen Tom Tiffany and Scott Perry that was heralded by the Taiwanese government for being supportive as well as the move to re-establish formal relations with Taipei, including a potential trade agreement. Lewis said she supported more U.S. attention for Taiwan in a "very thoughtful manner" but cautioned about references to the bill's adversarial mentions of China's Communist Party.
Explaining that there is a tendency for Taiwan policy to really be directed as China policy, Lewis said, "Instead, we want to make sure that Taiwan policy is about Taiwan."
A recent article in the Globe and Mail (subscription required), China's new demands for 'national unity' take the state deeper into Xinjiang homes, looks at the rights abuses in the Xinjiang region being suffered by the Uyghur ethnic minority.
The regulation applies "a gloss of legality – a sugar coating – to what is a blueprint to force unity and, in the process, eradicate the Uyghur culture," said Lewis.
Lewis invites the Seton Hall community to download the new Clubhouse Social Networking App and participate in the social media conversations she hosts with other top U.S.-based academics interested in Chinese law and politics on a nearly weekly basis. On March 11, the group discussed China and the WTO with Yeling Tan, University of Oregan political scientist, who published a prize-winning Foreign Affairs essay on "How the WTO Changed China: The Mixed Legacy of Economic Engagement."
Categories: Law