Wednesday, April 15, 2020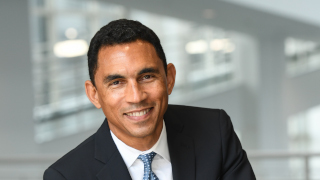 Visiting Law Professor Richard Winchester, a national authority on small business and federal employment tax policy, was featured by a number of national and local media outlets — digital, print, radio and television — to discuss the ramifications of various aspects of government's economic efforts in response to COVID-19.
Professor Winchester was featured by CNBC twice, Yahoo Finance, Money, ABC 7 News, The National Desk, Arlington Va. in a Facebook live Q&A with viewers and the syndicated radio show The Financial Quarterback, which is broadcast on WOR, WABC (NY/NJ) radio, WIBG (Atlantic City, NJ), WOBM (Ocean County) and WPHT, a CBS affiliate in Philadelphia. He was also cited by PolitiFact.
Much of the commentary of Professor Winchester, who worked as a corporate tax attorney for PricewaterhouseCoopers in its National Tax Office prior to teaching, addressed eligibility criteria for stimulus checks, how small businesses can best navigate coronavirus relief requirements and a number of anomalies within the $2 trillion coronavirus stimulus bill, which is the largest emergency aid package in U.S. history.
Regarding relief for small businesses Winchester, whose work is frequently cited in Congressional Reports on tax matters, noted to CNBC
Part of the confusion stems from the guidance released by the Small Business Administration, Winchester said. "We are trying to build a plane while we are in flight."
The goal, however, is clear, he added. "All the government wants is for businesses to start paying their workers again," Winchester said.
If they "rehire the workers and use the money to fund their paychecks," then, "the loan transforms into a grant."
Media Highlights
Categories: Nation and World