Thursday, September 24, 2020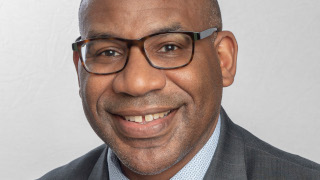 Servant leadership has always come naturally for Reginald Lewis. As a high school student, he enjoyed getting involved in what he calls "adult business," volunteering with his local East Orange councilman and later being named the youth representative for the councilman's First Ward Civic Association. "I was fascinated, attending Friday evening meetings as a teenager with adults strategizing about how to improve life in the city," says Lewis. "There was something about those conversations and watching adult volunteers attempt to problem solve. I walked away with a sense of accomplishment, having been involved in issues larger than myself."
The experience profoundly impacted Lewis, who developed a deep desire to improve conditions for disadvantaged people and communities. Decades later, that desire has led him here to Seton Hall's South Orange campus as the new executive director of the Robert K. Greenleaf Center for Servant Leadership at Seton Hall University.
Founded in 1964, the Greenleaf Center is a recognized thought-leader in the field of servant leadership, offering an extensive catalog of publications, online learning, workshops and an annual conference – all focusing on the niche subject of servant leadership. In the summer of 2019, after being headquartered in Atlanta, the Greenleaf Center relocated to the Seton Hall University campus while maintaining its independent non-profit status.
Much like the University's highly ranked Buccino Leadership Institute, the Greenleaf Center's mission complements Seton Hall's longstanding commitment to developing leaders. But while the Buccino Institute's focus is on nurturing up-and-coming students to develop into leaders, the Center's focus is on building a strong external constituency of those working in government, business, nonprofit and other sectors who wish to infuse servant leadership into their culture.
The Greenleaf Center promotes servant leadership as a unique style of leadership – what Robert Greenleaf referred to as the "Best Test." As Lewis explains, "Greenleaf would ask, 'Do those served grow as persons? Do they, while being served, become healthier, wiser, freer and more autonomous, and more likely themselves to become servants? And what is the effect on the least privileged in society? Will they benefit or at least not be further deprived?' It's not servant leadership just for the sake of it; it's about how one begins to gauge whether or not those being served are better off because of your leadership."
It's this definition of servant leadership that Lewis has used as a guide throughout his entire career, from his role as executive director of The Chad School Foundation, Inc., a Newark-based education policy and advocacy organization seeking to improve conditions in public school systems serving disadvantaged students; to his position as executive director of the Newark City of Learning Collaborative (NCLC), which aims to build Newark's college-going culture and increase the number of Newark residents earning degrees and other high-quality credentials. He has also served as executive vice president of United Way of Essex and West Hudson, special assistant to commissioners in the New Jersey Departments of Education and Human Services, and city administrator for the City of East Orange.
In 2010, President Barack Obama appointed Lewis to the U.S. Commission on Presidential Scholars, an appointment he held until December of 2016. In 2019, Governor Phil Murphy appointed him to serve as co-chair of one of five working groups for the implementation of the New Jersey Higher Education Plan.
"When I reflect on the opportunities I've had across various sectors, I feel grateful. I had a chance to work in the K-12 higher education space to really try to improve access to resources for high achieving, economically disadvantaged students who aspired to go to college. So, as a first-generation college student myself, I have an immense amount of gratitude for the privilege to support young people and help them overcome obstacles to achieve post-secondary attainment," says Lewis. "I am also extremely grateful for having served as my hometown's city administrator, a role that allowed me to practice the notion of being a servant leader."
As he embarks on his newest role as executive director of the Robert K. Greenleaf Center for Servant Leadership at Seton Hall University, Lewis has his sights set on advancing the awareness, understanding and practice of servant leadership. His ultimate goal is to leverage the philosophy of servant leadership to achieve greater impact in supporting society and responding to a host of societal challenges – and he views the Center's move to the Seton Hall campus as instrumental in achieving that goal.
"Because we're here in the New York/New Jersey metro area, we have an opportunity to build and strengthen our regional constituency base of people interested in servant leadership. And Seton Hall has longstanding values around servant leadership and creating graduates who are not just competent in their chosen disciplines but are also conscious about creating a better society. So, considering the values that we profess at Greenleaf, I see only synergies moving forward," says Lewis, who is also teaching the Core Curriculum's Journey of Transformation course this fall. "This is the first time we have taken up residence within an academic setting, and I've never been in a more welcoming, affirming, friendly environment. I'm grateful for that. Seton Hall has a certain spirit that I think is quite authentic."
Lewis is already putting his plans at Seton Hall into motion. He and his Greenleaf team have scheduled a webinar for Wednesday, September 30, at 2 p.m. titled "Confronting Racial Injustice: A Servant Leader's Response," featuring Elsa Holguin, president and CEO of the Denver Preschool Program, and Tyree Mitchell, Ph.D., assistant professor at Louisiana State University.
The Center has also selected its 2020 cohort of Greenleaf Scholars, administered in partnership with Seton Hall this year. Each year, pre-tenured faculty and/or scholars will be awarded small grants to conduct research in the area of servant leadership. Each of the following six scholars will receive a grant of $2,500:
Brittany Buis of University of Illinois at Chicago 
Hamed Ghahremani of University of New Orleans
Anne Rorholm of Gonzaga University
Jennifer Smallwood-Holmes of Indiana Wesleyan University
Jiaqing Sun of University of Illinois at Chicago
Haoying Xu of University of Illinois at Chicago
These grants might very well serve as a way for Lewis to pay it forward for a new generation of servant leaders, as the research made possible by the grants might just fuel the same deeply rooted desire within these scholars as that which was sparked within Lewis all those years ago – as a 15-year-old with aspirations of making the City of East Orange, and beyond, a better place for all.
Categories: Faith and Service