Asian Pacific American Law Students Association Celebrates Asian American Heritage Month
Wednesday, April 21st, 2021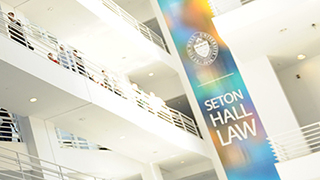 During the month of May, Seton Hall will be celebrating Asian American Pacific Islander Heritage Month. The Asian Pacific American Law Students Association (APALSA) at Seton Hall Law has already been busy hosting events and programs in celebration of the heritage month.
The Asian Pacific American Law Students Association (APALSA) is the premier Asian/Pacific American student interest organization at Seton Hall Law School. Its goals are to build community and generate advocacy for Asian Americans, to promote personal and professional development, and to cultivate transparency and teamwork. Throughout the year, APALSA has pursued these primary objectives by holding various programs and networking events, including virtual speakers, a trivia night, and a mentorship program. In addition, APALSA co-sponsors events with other organizations within the law school and participates in outreach events with other chapters of the national APALSA organization and with the Asian/Pacific American Lawyers Association of New Jersey (APALA-NJ).
On March 10, APALSA hosted a Virtual Conversation with Theo Cheng. Award-winning full-time mediator and arbitrator Theo Cheng shared his experience as an Alternative Dispute Resolution (ADR) expert and as an Asian American in the ADR field. The discussion sparked an interest in ADR among many law students. As APALSA strives to be a professional development resource for our community, this event opened up more career avenues for students to pursue.
On March 23, APALSA hosted a panel discussion on Perspectives from Diverse Asian American Attorneys. This virtual panel discussed topics such as diversity in the workplace today, as well as diversity in the legal profession more generally. The panelists were Poy Winichakul, Staff Attorney with the Voting Rights Practice Group at the Southern Poverty Law Center; Ariel M. Risinger, Legal Counsel for AXA XL; and Reema Kareer, Assistant Prosecutor, Morris County Prosecutor's Office. View the recording of the event.
On April 9, APALSA cosponsored a Seton Hall/Rutgers APALSA Game Night. Seton Hall APALSA and Rutgers-Newark APALSA teamed up to organize a virtual trivia night and a raffle with over 20 prizes.
On April 10, APALSA hosted a 1L Mentorship Program (Year-Round) Korean BBQ Lunch. APALSA established this program to provide mentorship to first year law students. Eleven 1L students were paired with 2Ls and 3Ls who offered guidance and support throughout the academic year. To culminate the program, APALSA organized a fun hybrid in-person/remote Korean BBQ lunch.
"APALSA strives to promote diversity, equity, and inclusion at Seton Hall and in the wider legal profession not only during Asian American Heritage Month, but year-round," said APALSA President Cheska Tolentino. "This Asian American Heritage Month, we are using our advocacy to bring greater attention to the historical and current discrimination faced by Asians and Asian Americans and to advance equality and justice for all."
Seton Hall University is committed to celebrating diversity, equity and inclusion across our three campuses. In the United States, Heritage Months are periods within the year that are designated to celebrate and acknowledge various groups. These are times to celebrate and educate others on various groups' histories and contributions to American History. These are also important opportunities that help us understand our own cultures and identities as well as the cultures of others.
View a listing of events celebrating Asian American Pacific Islander Month.
Categories: Arts and Culture