Announcing the University Seminar on Mission Fall 2022
Wednesday, August 31st, 2022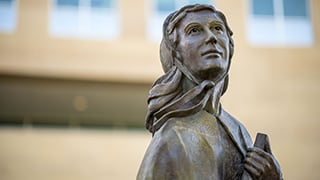 Every generation of Setonians needs to reflect upon the University's history and mission and make it their own. Too seldom do we take the time to consider what is most important to us as a University community.
To address these needs, the Office of Mission and Ministry and the Center for Vocation and Servant Leadership have organized seminars on the mission of Seton Hall University. Faculty and administrators are invited to a sustained reflection on the University's mission in light of its history and Catholic character in order to better understand the vocation of the University and our individual vocations as part of the Seton Hall community.
Participants will discuss seminal texts and contemporary commentary on the mission of a Catholic university and the unique mission of Seton Hall University. To facilitate discussion each seminar will be limited to 14 participants. The seminar will meet seven times during a semester. Eligible faculty will receive a $350 stipend.
Topics include:
The Catholic Intellectual Tradition
The history and character of Catholic higher education
Seton Hall's Catholicity statement
Core curriculum and the mission
Academic freedom and the Catholic university
Fall 2022 Session
Time: Thursdays 2:00 – 4:00 p.m.
Dates: September 29, October 6, 13, 20, 27; November 3
Held via Microsoft Teams
To apply for the fall seminar send your name and department to Linda Garofalo or Francia Peterson at [email protected]
Sponsored by the Office of Mission and Ministry and the Center for Vocation and Servant Leadership
Categories: Campus Life, Faith and Service