Society of Catholic Scientists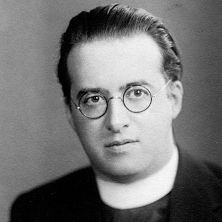 Monsignor Georges Lemaître (1894-1966), Astrophysicist & Mathematician and Father of the Big Bang Hypothesis
The Society of Catholic Scientists is an international organization that fosters fellowship among Catholic scientists and witnesses to the harmony of faith and reason. It hopes to answer the call of Pope St. John Paul II that "members of the Church who are active scientists" be of service to those who are attempting to "integrate the worlds of science and religion in their own intellectual and spiritual lives." The Society will do this through annual conferences, symposia and seminars, discussion groups, lectures, and other activities.
The Society of Catholic Scientists exists for the following purposes:
To foster fellowship among Catholic scientists.
To witness to the harmony between the vocation of scientist and the life of faith.
To be a forum for reflection upon and discussion of questions concerning the relation of science and the Catholic faith.
To act as a resource for Catholic educators, pastors, and lay people, and for journalists and members of the general public who have questions about the significance of scientific theories and discoveries and about the relation of science and faith.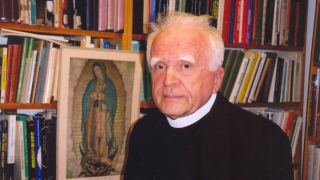 Father Stanley Jaki, OSB (1924-2009), Seton Hall Distinguished University Professor of Physics and Templeton Prize Winner
It exists as a place where Catholic scientists can share their knowledge, perspectives, and intellectual and spiritual gifts with each other for their mutual enrichment, and with fellow Catholics and the wider community. The Society also provides opportunities for Catholic undergraduates, graduate students, and postdoctoral researchers in the natural sciences to get to know and interact with more senior colleagues. In this way, the Society hopes to provide role models and mentors for young Catholics who are on the way to possible careers in science. It is open to scientists who are practicing Catholics, but does not presume to represent or speak for all Catholic scientists. It does not take positions on scientific questions controverted among the relevant scientific experts. Nor does it engage in political advocacy or issue statements on public policy issues. The Society adheres to the faith of the Catholic Church and will always operate with due regard to her Magisterium.
Click here to join and get involved with the Seton Hall University Chapter.
Please contact one of the Seton Hall officers after you register.
Seton Hall University Chapter Officers
President: Rev. Joseph R. Laracy, S.T.D.
Vice President: Rev. Gerald J. Buonopane, Ph.D.
Treasurer: Jose Lopez, Ph.D.