35th Annual Many Are One Virtual Celebration
Presented by Mercer
Honoring Our Alumni, Building Our Future.
June 17th, 2021 at 6 p.m.
On behalf of the entire Seton Hall Community, we are pleased to continue the tradition of honoring our Seton Hall alumni through a virtual Many Are One celebration. We look forward to honoring the 2021 Most Distinguished Alumnus, Sampson Davis '95, M.D., as well as sharing the many stories of alumni who have and continue to serve as an essential worker during this pandemic.
2021 Most Distinguished Alumnus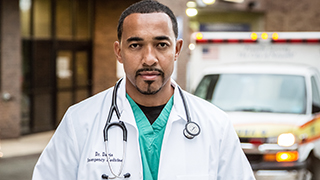 Sampson Davis '95, M.D.
Emergency-Room Physician, Motivational Speaker, Best-Selling Author and Philanthropist
Dr. Davis is a Board Certified Emergency Medicine Physician at several emergency departments in New Jersey. He has been a weekly correspondent on the Tom Joyner Morning Radio Show and CNN where he highlighted prevalent and life-changing medical topics. Dr. Davis has also co-authored three New York Times best-selling books entitled The Pact, We Beat the Street and The Bond. In 2000, Dr. Davis and two of his best friends created The Three Doctors Foundation, a non-profit organization that offers a series of free public programs focused upon health, education, leadership and mentoring. Read more.
---
Support Attend Many Are One
As a donor to the Alumni Endowed Scholarship Fund, you help carry forward the legacy of past Seton Hall generations into the present and beyond. Your support today will be instrumental in strengthening the ties between Pirates of every decade.
Many Are One is not limited to celebrating our alumni, but also, to raise funds that will directly impact our students. Your donation matters to the University as we move forward, together.
2021 Emcee

Matthew Loughlin '79
American Sportscaster
New Jersey Devils
WFAN
Matt Loughlin is an American sportscaster who is the radio play-by-play voice of the New Jersey Devils of the National Hockey League on WFAN, where he is partnered with former goaltender and former Devils TV color commentator Chico Resch. Loughlin attended St. Mary's High School. A 1979 graduate of Seton Hall University, Loughlin worked as a sideline reporter and pre- and post-game show host for Devils' telecasts on Fox Sports Net New York from 1997 to 2006. He also hosted intermission reports, where he was often paired with Stan Fischler for a question-and-answer feature called "Matt and the Maven". Loughlin substituted for play-by-play announcer Mike Emrick on occasion, often due to Emrick's conflicting national broadcast assignments. He served a similar role on New York Mets telecasts from 1996 to 2005. He is a resident of Westfield, New Jersey.
Dr. Sampson Davis '95, M.D.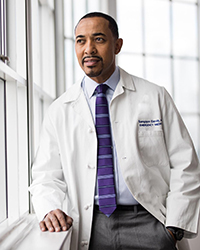 Sampson Davis was raised as the fifth of six children in Newark, New Jersey. Despite growing up in cramped living quarters, surrounded by fragmented families, crime and drugs, he was a good student, able to strike the fragile balance between being smart yet socially acceptable on the streets.
While attending Newark's University High School, he met fellow students Rameck Hunt and George Jenkins. Together, they made a promise to become doctors, which they all later fulfilled after attending Seton Hall University.
Davis graduated with honors from Seton Hall, earned his medical degree from Robert Wood Johnson Medical School and completed his residency in emergency medicine at the same hospital where he was born, Newark Beth Israel Medical Center.
Today he is a board-certified emergency medicine physician who has appeared on numerous talk and radio shows as well as in many print publications. He has co-authored three New York Times best-selling books: The Pact, We Beat the Street and The Bond.
Dr. Davis was honored in 2000 with a Lifetime Achievement Award from Essence and named in the magazine's list of "40 Most inspirational African- Americans" in the country. In 2009, he was honored at the BET Awards. Oprah Winfrey called him one of the "premiere role models of the world," and he is the youngest physician to receive the National Medical Association's highest honor, The Scroll of Merit.
Thank you to this year's Many Are One Digital Celebration sponsors: