Seven Deadly Succession Management Sins
Monday, October 17th, 2022
Suggestions that could help leaders identify ways to strengthen the succession and management processes and provide a guide to more success.
I am the chief talent officer at Takeda Pharmaceuticals and have been working in this management area for over 25 years. One of the most important focus areas for me and my team has been ensuring we have a robust pipeline of internal or external successors for our most critical positions. Why is this one of the most important actions for me and my team? It has to do with how a critical position is defined: These are positions that left vacant will have a negative impact on the company in terms of risk, performance and innovation.
As Peter Drucker once said, "a company's very survival depends on its ability to develop independent leaders below the top who are capable of taking top command themselves." This is why many companies engage in succession management. Succession management aims to build the bench strength of an organization by retaining and developing internal successors or building relationships with external talent who could quickly take on a critical position should the incumbent leave.
While succession management might sound like a relatively simple process, there are several ways it can break down. In my experience, there are seven ways succession management can be diminished; I refer to them as the "Seven Deadly Succession Management Sins." Each is presented below, in no order:
#1 – Not Enough Time
This occurs when not enough time is devoted to discussing talent, identifying ways to accelerate succession readiness, and vetting the succession plans. This is a common "sin." I frequently hear that we should have scheduled more time for the discussion given its importance, but it is not prioritized. What typically happens is the plan is reviewed but names on the plan are not challenged and/or specific development actions are not agreed upon. Investing the necessary time is also important to address the bias that might exist in the process or the person responsible for creating a particular succession plan.
#2 – Too Many Successors
This occurs when the leadership team identifies more talents to actively develop than they have capacity. This occurs for two reasons: (1) The leadership team doesn't accurately estimate their capacity to develop talent relative to their other demands and/or (2) they have difficulty prioritizing the individuals they will focus on. The main problem with this "sin" is that the list of talents becomes so overwhelming that little action is taken. In my experience, identifying a small list (one to two individuals per leadership team member) to focus on typically results in development support occurring.
#3 – Pad The Plan
This "sin" occurs when people are included on the succession plan who are not true successors, to make the plan look stronger than reality. It is natural for a leader to see the strength of their succession plan as a reflection of their own strength as a leader and then succumb to this pressure of "bulking up" the succession plan(s) for their role or organization. To confront this "sin," it is important to allow sufficient time for others to challenge the plan and for the leader to justify the names on their plan. It is also important to reinforce and recognize individuals who have realistic plans, even if they have few internal successors. In fact, having a realistic view of the internal successor pool helps identify opportunities to cultivate external talent to strengthen the succession plan. While the preference is always for internal talent to fill a role, it is not always possible, and creating plans to build relationships with external talent is a good strategy that would be missed by an unrealistic plan.
#4 – "Outsource" Development
One of the most important responsibilities of a senior leader is to identify and develop their successor(s). However, all too often senior leaders "outsource" development of successors to a consultant or HR versus the leadership team and direct manager owning it. Steve Jobs recognized his responsibility as a senior leader, saying, "My job is to make the whole executive team good enough to be successors, so that's what I try to do." A senior leader is smart to partner with HR and consultants but should not lose sight of the importance of their individual role in developing successor talent.
#5 – Undervalue Experiences
It is often the first impulse of a leader or leadership team to look to an executive coach or mentor or send the individual to an executive seminar at a respected business school to develop successor talent versus looking for challenging experiences to build readiness for the next level. I am guilty of this "sin" as well, as each of these actions feeds the desire for quick action. The problem is that we often let the discussion and development action end here when the most effective way to develop leaders is through "crucible moments," moments that transform the leader, forcing them to think and/or act differently. Identifying these moments takes time, planning and often financial support; it is the hardest part of developing talent but the area with the greatest impact.
#6 – No Talent Philosophy
This occurs when an organization doesn't have a clearly stated talent philosophy to help guide talent decisions (e.g., differential investment in high potential talent). A defined talent philosophy helps guide the succession management-related actions of the leadership team. For example, one tenet of the philosophy may be for transparency to be a hallmark of the culture. If this were the case, it would naturally follow that all successors would be told they are on one or more succession plans. A talent philosophy has the additional benefit of being a tool for communicating to the broader organization the point of view of top leadership on all talent-related decisions.
#7 – Ignore Data
The final "sin" occurs when the organization does not leverage the rich amount of data and insights that exist within the Human Resource Information Systems. There is a myriad of tools, such as talent profiles and demographic information, that can inform the succession management process. Not taking advantage of this information to strengthen things such as successor diversity or help identify targeted development actions for an individual is a big, missed opportunity. In addition, analyzing the plans themselves provides insights into the overall strength of the succession plans, identifies actions to strengthen the plan and tracks progress.
It is my hope that this list will help both talent practitioners and senior leaders identify ways to strengthen the succession management processes in the organizations they support or lead. Certainly, the use of "sins" is tongue-in-cheek and an opportunity to have a bit of fun with the topic. Nonetheless, each offers organizations the opportunity to strengthen their succession management, thereby providing a greater likelihood of continued success.
About the Author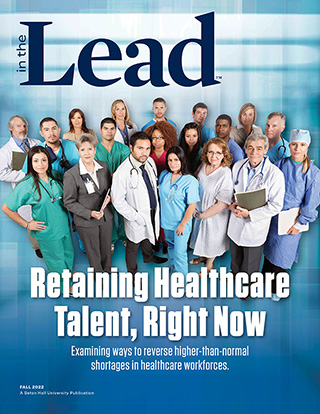 Stephen Dwight, Ph.D. is the chief talent officer at Takeda, a global pharmaceutical company. Previously he held senior talent management roles at Vertex, Novo Nordisk, Bristol-Myers Squibb, and Sunovion. He also has consulting experience, working at Aon Management Consulting and the Hay Group early in his career. He holds a Ph.D. in Industrial/Organizational Psychology.
This article originally appeared in the Fall 2022 issue of In the Lead magazine, from The Stillman School of Business and its Business Leadership Center. The bi-annual magazine focuses on leadership perspectives from the field of health care, with content that is curated from leaders across the industry who share lessons learned from real-world experiences.