Tuesday, November 1, 2022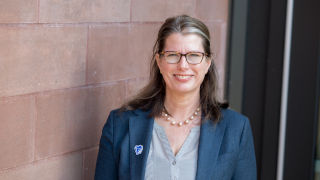 Jane McManus of Seton Hall University's College of Communication and the Arts has joined the Buccino Leadership Institute as the director of the College's cohort.
McManus is a new addition not only to the Buccino Leadership Institute, but to Seton Hall University. She recently joined the University as the inaugural executive director of the recently established Center for Sports Media (CSM) within the College of Communication and the Arts this past May.
Prior to joining Seton Hall, she served as the director of the Center for Sports Communication at Marist College. Before entering academia, McManus was a sports columnist and analyst for various major news outlets including ESPN and Deadspin. Her commentary and other published work have been featured in Newsday, USA Today, The Journal News, and The New York Times. Additionally, she has appeared on MSNBC, Good Morning America, CNN, Al Jazeera, NPR and several ESPN shows.
As the inaugural executive director for the CSM, McManus is not teaching a class this semester and is focusing on establishing the Center at the University. She initially thought that her new arrival and limited time with students would present a challenge for her. However, McManus learned that "there is a good amount of overlap between the students in the communications cohort and the Center for Sports Media."
McManus expressed how she is "in higher education because I really enjoy meeting and working with young people, and since I'm not teaching a class this semester, working with the Buccino Leadership Institute is a great way to dive in and get to know the Seton Hall community."
Throughout her professional career, she has recognized the importance of having an established relationship before working directly with individuals. Before providing outside-the-classroom experiences for her students, she wanted to be able to know her students' professional goals and aspirations, as well as their personal stories. With this teaching philosophy in mind, McManus planned for her cohort's first meeting of the semester as a forum for students to share their own goals and motivations for participating in the leadership program. She learned that after the Covid-19 pandemic and virtual learning students were craving community and interaction within the cohort, and with in-person speakers.
As a result of this conversation, McManus made community and in-person interaction the theme of this semester. To achieve this goal, she is holding her cohort meetings in-person to foster a sense of community among students and with the speakers she brings. Additionally, she is bringing in guest speakers to discuss topics at students' request; the first topic addressed was the hiring process. She has also worked to connect students with each other through a mentorship program.
The Institute is excited to welcome Jane McManus as a director, and we are excited to see how she further develops the Communication and the Arts cohort.
Categories: Campus Life , Education