Thursday, December 16, 2021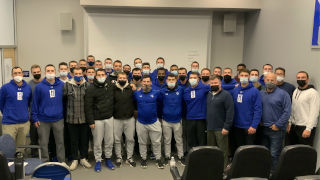 Baseball team with Dr. Bryan Price
Did you know that Seton Hall's baseball and women's golf teams have benefited from a resource that is normally only available to Power-5 athletic programs and professional teams?
That resource is mental performance coaching, and it's led by Dr. Bryan Price, executive director of the Buccino Leadership Institute and the founder of Top Mental Game.
Elite players and coaches know that being physically talented is not enough, especially in today's environment where athletes experience increased stress due to the uncertainties of the pandemic.
 
While there have been impressive investments to Seton Hall's facilities in recent years, including a new baseball field, Walsh Gymnasium 2.0, and the many amenities found in the Reagan Athletic Center, the resources dedicated to improve the mental performance of Pirate athletes have not kept pace.
As a result, teams like baseball and women's golf have turned to Price.
"I created Top Mental Game to help athletes and coaches perform at their best when it matters the most," said Price.
"I was fortunate to play D-I [Division-I] baseball and later coach baseball at West Point, and now I'm a parent of an athlete, so I know first-hand the pressures athletes face today. And collectively, I think we've failed to give today's athletes the tools they need to cope with those pressures."
Price blends what he says are two of his loves - mental performance and leadership - when he works with athletes and teams. 
On the mental side, he teaches athletes how to set and achieve meaningful goals, perform under pressure, and increase their mental toughness and resiliency in the face of adversity with simple, applicable tools. 
On the leadership side, Price is an executive leadership coach who works with corporate teams such as J.P. Morgan Chase, Citi Group, and Bristol Myers Squibb. He's done leadership workshops on elite organizational culture and team effectiveness.
He said those professional experiences help him aid coaches in building better and more cohesive teams. "After 20 years serving in various units in the Army, including in combat, and working inside world-class cultures at Stanford and West Point, I feel as though I can offer coaches and teams insight into high-performing teams and effective team cultures."
When he spoke at the annual Patrick and Mary Ann Pfaff Murray Leadership Forum in 2019, Price extended a free offer to work with any Seton Hall athlete or team on the mental game. Two coaches, Natalie Desjardins from the women's golf team and Robert Sheppard from the baseball team, took Price up on his offer.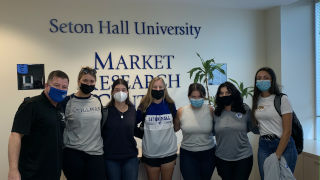 Women's golf team with Dr. Bryan Price
"I've always felt like the mental side of the game has been overlooked," noted Coach Desjardins, a standout collegiate golfer and former coach at Long Island University. "In golf, it's just you, the course, and your thoughts for 6 to 12 hours. When Dr. Price offered to help us – I jumped at the opportunity."
Since then, Price has spent over 100 coaching hours across both teams and individual sessions with players, helping them perform at their best, on and off the field.
Desjardins said, "Working with Dr. Price has helped us develop intent, focus, commitment, quality practices, self-awareness, and the ability to perform under pressure. He's has had an immediate impact on the team. The word our team continues to use to describe their mental sessions with Dr. Price is POWERFUL."
For Coach Sheppard, working with Price has taken on even more importance since the start of the pandemic.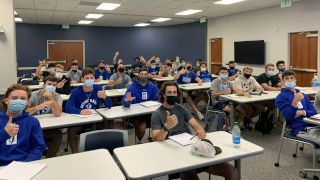 One of six baseball sessions with Top Mental Game
"The mental game is more important now than it's ever been," said the head baseball coach, who's starting his 19th season at the helm and 28th year in the program. "His [Dr. Price's] sessions provide our student-athletes with the tools they need to navigate through the challenges they encounter on a daily basis. They have not only helped them improve their athletic performance, but also with everyday life."
 
Sheppard continued, "The tools he's covered – things like visualization & imagery, positive self-talk, and the ability to reset our mind for the task ahead – have made our team more focused and resilient."
Pirate athletes agree about the benefits of mental performance coaching.
Mia Kness, Seton Hall's all-time low career scorer and a former Seton Hall Female Athlete of the Year, said, "I've been playing competitive golf now for 8 years, and within just a few sessions, Dr. Price gave me a whole different outlook on the game. His mental strategies and techniques have helped me overcome many obstacles in my daily life and on the golf course. He's helped my play and mindset tremendously."
Blaise Panzini, a senior pitcher on the baseball team, offered similar praise. "The sessions we've had on preparation, visualization, positive self-talk, and handling adversity - all of these tools allowed me to take my mental game to the next level and handle high-pressure situations."
Price noted, "Nobody in the Big East is doing what we've done with baseball and women's golf when it comes to mental performance coaching."
"Nobody."
So given the success of Price's work with these teams, what's next? 
Price has worked with elite athletes and coaches in 13 different sports, from Hawaii to Spain. He's worked with players who've made it to the professional ranks, gold medal-winning coaches, and D-I teams at Army, George Washington University, and here at Seton Hall.
But he believes that Seton Hall can differentiate itself from other Big East programs by expanding his mental performance program to all sports.
"Every Big East athletic program has a sports psychologist on staff, which is great. But players are often only directed to them when there's a problem. I want to give athletes the tools to succeed before there's a problem. You don't need to be sick to get better. No matter how great you already are, I want to make you even better."
 
Categories: Athletics