Meet the Coaches - Annalise Matulewicz
Thursday, October 13th, 2022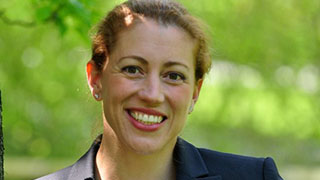 For two semesters, students in the Buccino Leadership Institute have one-on-one meetings with a professional International Coaching Federation certified coach to work on personal development goals and skill building that will help foster their leadership skills for their prospective career fields. Annalise Matulewicz, a principal performance coach and leadership consultant at BuildIN LLC, has worked one-on-one with leadership students to develop the skills and resources they need to become the next generation of effective leaders during her time at the Buccino Leadership Institute.
When asked about her experience with Coach Matulewicz, senior Communications and the Arts student Ava Eckberg shared the following about how her individual sessions with Matulewicz helped improve her leadership skills. "Working with Matulewicz as my leadership coach has easily been the greatest benefit and highlight of my four years within the leadership institute. Our meetings were ones that challenged me both as a leader and as a person. I left our meetings feeling more confident in my strengths and conscious of my blind spots, discussing in what ways I could lead despite them. Not many people at the undergraduate level can say they have had such individualized coaching experience, and for that, I am unbelievably grateful."
Matulewicz has been in the personal coaching profession for over fifteen years. During this time, Matulewicz has worked in leadership development, corporate and academic training, and has been a personal leadership coach for C-level executives and college students.
Introduced to the Buccino Leadership Institute by her dear friend and colleague Rebecca Feder of Princeton HR Insights, Matulewicz has been a part of the Buccino professional coaching team since the leadership program expanded to all colleges of the university in 2018. Feder and Matulewicz both went through the same coaching certification program with previous Executive Director of the Buccino Leadership Institute, Dr. Bryan Price, and were honored to be a part of the program Dr. Price was building at Seton Hall.
Matulewicz's first experience with leadership coaching came from her own experience as a client, when she sought out an executive coach to help her grow in her professional career. In these sessions, Matulewicz found that she felt at home when working with a coach. The dynamic between a coach and client reminded her of the environment that her parents cultivated in her home growing up. The foundational skills of coaching: active listening, asking open-ended questions without judgement, curiosity, and care were characteristics of her household, and having these sessions with a coach felt like personal conversation with someone she could trust.
As a client, Matulewicz learned that working with this coach not only helped her leadership skills but taught her skills that she could utilize in her personal life. She explained that "it made me not only a better leader, but a better daughter, mother, wife, and friend…although I still have a lot of growing to do in all areas! The impact of that coaching was inspiring, and I wanted to be a part of that impact for someone else."
After observing good and bad leadership during her corporate sales and marketing career, Matulewicz concluded that great leadership is the most important factor in an organization. This knowledge combined with her own positive experience with an executive coach, made Matulewicz realize that she could use these experiences to help others in their professional journeys. It inspired her to make the professional switch to become an executive coach.
In her journey to becoming an executive coach, Matulewicz sought resources and academic experience to offer her clients impactful services. To do so, she completed various coaching certifications to gain more perspective on how to best challenge her clients to make changes in their lives and grow confidence in their skills.
These certifications included becoming an International Coaching Federation (ICF) professional certified coach (PCC), obtaining a certificate in leadership coaching for organizational performance (LCOP), and completing a sales advantage certificate of achievement from Dale Carnegie. Additionally, Coach Matulewicz is certified in administering and analyzing TTI Success Insights DISC assessment and 12 Driving Forces assessments. These certifications and programs allow Matulewicz to use the most modern, cutting-edge models in her coaching sessions with clients.
When coaching her leadership students and corporate professionals, Matulewicz uses her personal philosophy of always beginning from within. When asked what this philosophy means to her, Coach Matulewicz explained that "she wholeheartedly believes that to be the best leader, you must start with yourself. Look inward. You want to motivate others; how do you motive yourself? You want to communicate with influence and kindness? How do you talk to yourself? Confidence, authenticity, presence, communication…all powerful attributes of a great leader and all of which begin from exploring within." She uses this philosophy to challenge her clients to be introspective and find their strengths, weaknesses, and motivations before learning how to utilize these qualities as a leader.
During her four years as a coach within the Institute, Coach Matulewicz has had many impressive coaching moments with students. When asked about her most powerful moment with a student, she expressed how she cannot narrow it down to one. Instead, she said that as a coach, you can sense when a client is having this type of breakthrough. "It's when a leader makes a connection… where they are aware and fully understand why they think or behave in a way that does not serve them. From that awareness, they access choice. The power of coaching is in their choices…these actions to think or act differently that help them to improve and then integrating that into their lives." When she senses that a student is making this type of impactful moment during one of her coaching sessions…that is when her "heart sings".
The institute would like to thank Coach Matulewicz for all that she has done for our student leaders these past four years at the institute and we cannot wait to see how she continues to impact our leaders!
Categories: Education