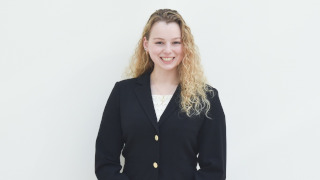 Mary Grace McNamara is a leader from the College of Education and Human Services.
Mary Grace McNamara, a sophomore from the Buccino Leadership Institute, is a trailblazer in the College of Education and Human Services. As an undergraduate student passionate about children and educational leadership, Mary Grace partnered with Court Appointed Special Advocates (CASA) of Union County to raise awareness and support the academic needs of underserved children in the community.
CASA is an organization that recruits, trains, and supervises community volunteers to act as advocates and mentors for the best interest of neglected children and teens. CASA volunteers connect with youth as they transition out of foster care and mentor them in developing productive habits and healthy relationships. Volunteers coach youth to reach their fullest potential by making recommendations to the court for critical community resources and services to improve a child's stability and outcomes.
After conducting a successful collection in her hometown, Mary Grace allied with CASA, bringing the school supply drive initiative to the Buccino Leadership Institute. "CASA is an amazing organization and as a student majoring in education, I feel that it is my responsibility to work towards the betterment of children in all communities," claims Mary Grace. The administration of the College of Education was receptive to Mary Grace's pitch, and her cohort began organizing the drive.
"I shared my idea for a school supply drive in my leadership cohort and everyone was ready to lend a hand," exclaimed Mary Grace. Service projects are an ideal platform for emerging leaders to develop new skills and work in a collaborative environment. Ms. Yolanda Jackson, Associate Director of the Institute's cohort for Education and Human Services, and Dr. Omayra Arocho, Associate Dean of College Engagement and Community Development, were two of Mary Grace's main supporters. The education cohort contributed to the successful implementation of this initiative by designing flyers, distributing collection bins, advertising on social media, and strategic opportunities for remote students to participate.
In alliance with CASA, the school supply drive hosted by the College of Education and Human Services has proved to be an enormous success. Mary Grace described the drive as "more than successful" with over 150 school supplies collected over the month. In addition to collecting academic materials for underserved children in Union County, Mary Grace has created a meaningful service project that she hopes will become a tradition in her leadership group. Looking forward, she hopes to put together an improved marketing campaign to raise awareness and collect resources for the CASA and increase the opportunities for leadership development within her cohort.
Categories: Campus Life , Education , Faith and Service