Stillman School and Its Business Leadership Center Publish Third Issue of In the Lead Magazine, A Leader's Journey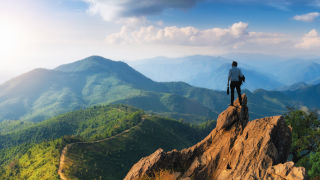 We Admire Leaders. We strive to be like them. We learn from them. At times, we even envy them. They are often thought of as the pinnacles of success. At least that is how our society and culture has positioned them — on the upper pedestal.
But what does the journey to becoming a leader look like? Is it all about capabilities, perseverance, resilience and grit? What role does chance or luck play? Is there a clear path to leadership? Or even a single destination?
What about different perspectives on who is a leader, based upon culture and societal norms? Is an ascetic sage a leader or a president a leader? Is a leader someone willing to die for their country serving in the armed forces or someone working on the problems of social upheaval? How about the perspective of your own personal circumstances growing up? Perhaps perspective about leadership should be based upon the industry you work in. We might also consider perspective based on personal maturity and experience. Of course, there is always perspective based on your position in the organizational hierarchy.
We believe that there is no one path to leadership. Many elements are the same — capability, resilience, grit, humility, perseverance. Yet, there are many failures along the journey. Many disappointments. But that is the beauty of humans: We continue to strive!
In this issue, we present different perspectives on the journey of leadership. We want you to read these stories and tell us what you find are common themes. And what surprises you. Most importantly, what is leadership?
In the Lead Editors:
Ruchin Kansal, M.B.A., Associate Director, Business Leadership Center
Steven Lorenzet, Ph.D., Associate Dean, Stillman School of Business
Bryan Price, Ph.D., Executive Director, Buccino Leadership Institute
Click here to read the latest issue of In the Lead magazine, and feel free to share the content with others.
In This Issue
A Healing Path for Health Care
Early leadership development for healthcare worker improves outcomes for both business and patients.
By Lauren Snowdon
Be Yourself. Everyone Else is Taken.
As a leader, it starts with being yourself and encouraging others to do the same.
By Linda E. Dunbar
Leadership Lessons
It is different for every company and leader, but for all the differences, the key is the person at the top.
By Sharon Lightner and Karen S. Haynes
In Focus
Brooks Mencke '16 discusses how skills such as preparation and collaboration are invaluable in becoming a successful leader.
In the Crucible
Help your team build resilience and embrace adversity.
By Capt. Tom Chaby (U.S. Navy, Retired)
Book Review
A new book compares how cults and leaders use language, and how we see that language in many other places, including business.
Reviewed By Paula Alexander and Stephen Wood
We are proud to share the third issue of In the Lead with you! And we welcome your feedback.
Categories: Business