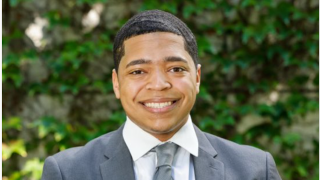 Jason Santos, Founder of Pirate's Closet
When Jason Santos joined the Buccino Leadership Institute as a "newbie" sophomore this semester, he didn't imagine he would be standing in front of 70 students and faculty, about to pitch an original idea for a semester-long project that would leave the audience breathless. 
 
But he did. 
 
He probably didn't predict that he would then hire his own team of 9 interdisciplinary students from across the university in a live draft to help execute his idea. 
 
But he did. 
 
And now, he and his team stand ready to help Seton Hall students who are in need and at a critical point in their professional career. 
 
And with your assistance, they will. 
 
Santos, from the Stillman School of Business, is one of seven sophomores who are leading their own interdisciplinary teams this semester as part of LEAD 2050. 
 
In the Fall, every sophomore student had the opportunity to pitch an original idea to help Seton Hall or the surrounding community. Ideas ranged from new approaches to the Institute's recruiting efforts, a professional program linking up leadership students to shadow SHU alumni, and an effort to bring the Institute's most popular exercise, the "crucible moments" exercise, to the CORE program. 
 
But the idea that Santos pitched - to create a lending closet of professional business attire for Seton Hall students who don't own any - was the runaway winner and the top vote-getter this year. 
Santos shared the genesis of his idea. "The idea came from a vulnerable moment where I could not afford formal clothing for our first business leadership event. On the day of the event, I went to Burlington Coat Factory and rushed to get clothing that barely fit me. Truth is, I was embarrassed about not being able to purchase the appropriate clothing. I was inspired to prevent such a problem for fellow students."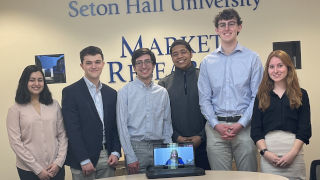 Jason Santos and his IDT Team, "Pirate's Closet"
Santos said the goal of his project was "to ensure that every student has access to proper formal attire." His team will be establishing a working closet filled with formal business clothing that represents the needs of our student community. 
"Not only do we plan to supply clothing," Santos noted, "but we wish to also educate students on the correct attire for professional clothing." 
Dr. Bryan Price, the executive director of the Buccino Leadership Institute, recalled the feeling in Jubilee Auditorium when Santos pitched his idea. "It was one of those rare moments where a student not only had a home run of an idea, but the presentation was so genuine and heartfelt, so personal. I looked around and everyone was speechless."  
 
Santos said that his team is in need of your help to make the dream a reality.
"We'll be doing an official drive between April 4 – 8, Monday through Friday. We're looking for professional business attire, especially (but not limited to) blazers, dress shirts, blouses, dress pants, and ties."
Santo said to look for donation boxes around campus that are labeled "Pirates Closet." The team also has an Instagram page where people can go for more information.
 
Price said the team is also struggling to find a temporary place on campus to store clothes. He asks if there are any administrators on campus who have space they'd like to temporarily "donate," please contact him and Santos. 
Finally, the team is also looking for a laundry service that will support the program at a reduced cost.
While this original project is a great opportunity to do some serious good for Seton Hall students in need, it's also a once-in-a-lifetime opportunity for Santos to grow as a leader.
"There's been a lot of personal growth throughout this project," Santos noted. "I'm working with such an amazing team of interdisciplinary students, and I'm witnessing this idea I had blossom into something tangible."
Price said that it's these types of scenarios that he envisioned when interdisciplinary team (IDT) projects were introduced into the curriculum.
"These projects provide students to create their own entrepreneurial projects, hire their own team, and execute their plan. Along the way, these leaders find their own voice and can experiment with leadership styles and approaches they think will be successful."
"But this is definitely a special project," Price added. "And Jason is a special young man."
 
Categories: Business