Buccino Institute Graduates Inaugural Class
Wednesday, May 25th, 2022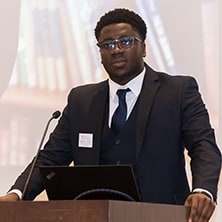 Emmanuel Olatunde, a senior from Gambia and a member of the inaugural cohort from the College of Arts and Sciences
On Tuesday, the Buccino Leadership Institute saw its first cohort graduate from Seton Hall University.
Although the Buccino leadership program started inside the Stillman School of Business in the 1990s, it wasn't until 2018 the program expanded university wide.
In August 2018, the Institute welcomed 83 students to its inaugural class. Almost four years later, 67 of those have earned the right to say that they are graduates of one of the most intense leadership development programs in the country.
In their first two years in the program, Buccino leaders learned about their strengths and vulnerabilities. They took several professional assessments, including the Myers-Briggs Personality Type Indicator, Eq-i 2.0 emotional intelligence assessment, and the DISC behavioral assessment. Students took field trips to the National 9/11 Museum and Memorial and Gettysburg National Battlefield.
They got to practice leading others in freshmen and sophomore interdisciplinary team (IDT) projects, and to help them reflect on their leadership effectiveness, each student had their own professional executive coach.
As juniors and seniors, Buccino students received discipline- and industry-specific leadership development based on their future profession. Many students participated in the Institute's various initiatives, including the diversity and inclusion committee, selection committee, strategic communications team, podcast, and student council. Juniors took the Strengths Finders 2.0 assessment and seniors took the Eq-i 2.0 emotional intelligence assessment.
"There's not another leadership program like this in the country," said Bryan Price, Ph.D., the executive director of the Buccino Leadership Institute. "These students were a part of something special, something new in undergraduate leadership development."
On April 20th, the Institute celebrated its graduating students at an end-of-year gala that included university leadership, executive coaches, and friends of the program. Graduates received their certificates of completion and special cords to be worn at commencement.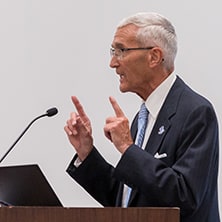 Michael Reuter, director emeritus in the Institute.
The gala's keynote speaker was none other than Michael Reuter, director emeritus in the Institute and a beloved fixture at Seton Hall since 2007. Reuter gave the graduating cohort advice on life and leadership like only he can, earning a standing ovation in the process.
As the event's master of ceremonies, Price shared several statistics that spoke to the program's effectiveness:
700 – the number of digital badges distributed by the Institute's student council on LinkedIn, the first digital credentials ever issued by the university;
500 – the number of articles of business attire that sophomore Jason Santos and his IDT collected for their innovative Pirate's Closet initiative. This included over 300 articles donated by Burlington;
86 – the number of podcasts produced by the Institute's podcast team;
30% - the percentage is the number of Buccino students who were one of the university's 47 Servant Leader Scholars;
26% - the percentage of total student leadership positions on campus that are held by Buccino Leadership Institute students;
2.7 and 12.3 – the first number is the highest average increase in total emotional intelligence by another undergraduate leadership development program in the Eq-i 2.0; the second number is the average increase in total emotional intelligence by our graduates between their freshmen and senior years.
Out-shining those statistics were speeches given by six graduating seniors, one from each of the six participating schools and colleges in the program. These students shared their personal leadership journeys over the past four years, each highlighting different aspects of the Institute's comprehensive program.
The following students treated the audience to their individual growth stories:
Sarah Adam – College of Education and Human Services
Jared Rubino – Stillman School of Business
Katie Mazzarelli – College of Nursing
Emmanuel Olatunde – College of Arts and Sciences
Madisyn Travisano – College of Communication and the Arts
Peter Eggerding – School of Diplomacy and International Relations
Emmanuel Olatunde, a senior from Gambia and a member of the inaugural cohort from the College of Arts and Sciences, gave perhaps the most moving speech of the night.
Just a year ago, in a special masterclass on communication for leaders given by Dr. Steve Adubato, Emmanuel was unable to get through a prepared 3-minute presentation on a topic of his choice. It turned out to be a life-altering moment for Emmanuel.
As Olatunde told the audience, "I froze." He couldn't remember what he wanted to say next, and in mid-presentation, he froze. "I can't continue," he told the other 18 students on the Zoom call that evening. "I can't go on."
The fact that he quit wasn't the game-changer for him. "It was that I quit in front of my peers, people who I respected in the program, he said."
So Emmanuel made himself a promise to get better. He worked on his public speaking skills. He got outside of his comfort zone. He tried to learn from every single interview he got in search of a job. And there were many of those – Olatunde estimates 50 companies and over 100 interviews!
With each interview, he got feedback, and with each interview, Olatunde got better, making it further and further into deeper rounds.
Until finally, he got the yes from Bloomberg, after 6 interviews.
Olatunde's main message? "Don't be afraid of failure."
"Given this is our first cohort," Price said, "I'm tremendously proud of their hard work and dedication. I'm also very appreciative of our faculty and staff who make this program a reality."
When asked to reflect on the past four years leading the Institute, Price had this to say. "The statistics and the numbers of how many assessments we've administered are certainly impressive, but to understand the true value of our program, judge us by the individuals walking across that commencement stage with a light blue cord around their neck."
"They, and the good they'll produce in the world, are our real credentials."
Categories: Arts and Culture, Business, Education, Health and Medicine, Nation and World, Science and Technology