Alexa Toohey – Helping Move Fashion Forward
Tuesday, October 4th, 2022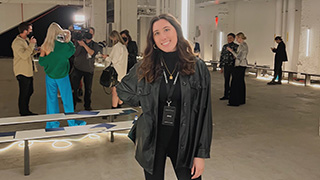 This month leadership student Alexa Toohey had the opportunity to assist famed fashion designer Christian Siriano during this year's fall fashion week in New York City. Toohey's relationship with Christian Siriano's brand stemmed from her time as a Public Relations Celebrity intern during the summer of 2021. During this internship, she delivered garments around NYC to clients, helped in the showroom, assisted with sending out online purchases, and completed day-to-day tasks. Following her internship, she was invited by the brand to attend the fall 2021 show and several subsequent shows in New York City.
Before being invited to her first fashion show, she realized that she had no idea how much work went into a single show. She explained that it was not until she was actively a part of this process did she realize how many months of prep-work went into creating a single show. Even the day of the show, individuals like Toohey and her superiors are constantly working behind the scenes to organize every little detail including set installations, beadwork, hair and makeup, model castings, lighting, and more to create a spectacular experience for their audience.
When asked to describe a typical show-day, Toohey said that her day begins very early. She will take an early train into New York City, followed by a subway ride to Christian's office. There she helps with last-minute tasks and completes some final outfit deliveries for people attending the show. She admits that each show is different, but her day always begins at the office before the venue. After Toohey and her co-workers complete their last-minute prep-work at the office, she and the team eventually make their way to the venue and help prepare there until the show happens hours later. After the show, she helps take everything back to the office, and then she works the door of the after-party.
While in an environment surrounded by fashion professionals, celebrities, and adult co-workers, Toohey said she has to maintain a sense of poise and confidence. As a young professional, it can be challenging to be confident in your abilities in a real-world environment. Toohey credits the Buccino Leadership program for preparing her to exude confidence in her skills as a leader. She specifically pointed out how the fast pace of these events forced her to have self-assurance to complete tasks on her own. This ability was fostered by her experiences in the Institute, as she was able to apply the skills she learned throughout her first two years to the professional world during these shows.
While reflecting upon her experience with Christian Siriano's brand, Toohey acknowledged how impactful being in the competitive fashion environment was for her development as a leader. Not only did being surrounded by fashion professionals give Toohey insight into the high-end fashion world, but it expanded her vision for her future career after graduation.
When asked about what advice she would give to a fellow Communication and the Arts student, Toohey said, "As a CommArts student, there are so many different areas that students can be involved in and focus on for our futures. Finding what you are passionate about and enjoying our education makes our lives so much more interesting and engaging. While it may take some time to find what you are truly interested in, once you find it, it will be so enriching."
Alexa Toohey is a junior in the College of Communication and the Arts studying journalism and public relations. After graduation, she hopes to utilize the knowledge from these fields to enter the fashion or beauty industry.
Categories: Education