"Leadership is not about commanding others, but it is about listening to them, understanding them, and guiding them."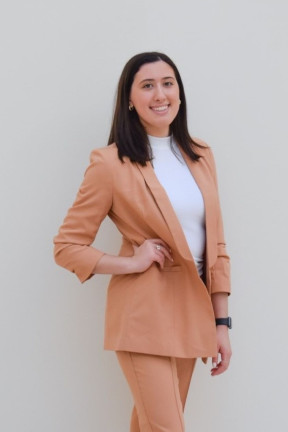 Alexa Toohey originates from Fairfield, Connecticut, and is now a student of the college of Communications and the Arts here at Seton Hall University. As an out of state student, Alexa found a home at Seton Hall within the Buccino Leadership Institute.
Throughout her high school career at the Academy of Our Lady of Mercy, Alexa demonstrated her powerful leadership in many ways including being vice president of the Irish club, voted captain of the cheerleading team twice, and being selected as an All-SCC cheerleader. Alexa's work and volunteerism in many different fields outside of school have all sharpened her leadership skills and have fostered her personal growth.
A large factor in Alexa choosing to make Seton Hall her new home was its proximity to New York City which makes internships and professional experiences in her field even more accessible. She even was fortunate enough to land an internship the summer of 2021 with fashion designer Christian Siriano. The easy access to the city partnered with the Buccino Leadership Institute's passion for aiding students in making professional connections was more than enough for Alexa to relocate to South Orange.
Here at Seton Hall, Alexa chooses to fill her time being involved on campus through not only the Buccino Institute, but also working at the ARC, writing for the Setonian, and actively involving herself in her Greek organization. "One of my favorite features of Seton Hall is how we have the opportunity to be involved with every aspect of campus, and how each experience allows us to become involved with a new group of people."
Applying and being selected to join the Buccino Leadership Institute family was so important to Alexa because she knew how influential it would be to her leadership development and personal advancement here at Seton Hall. She eagerly anticipates connecting with other institute members and alum in the future to collaborate and network.
Seton Hall Career Highlights:
Competitively selected into the Buccino Leadership Institute
Public Relations and Celebrity intern for Christian Siriano
Staff writer for The Setonian
Peer Academic Coach at the Academic Resource Center
Active member of Seton Hall sorority Alpha Phi
Empowered Women Empower initiative member