"We learn and succeed by embracing challenges, not avoiding them."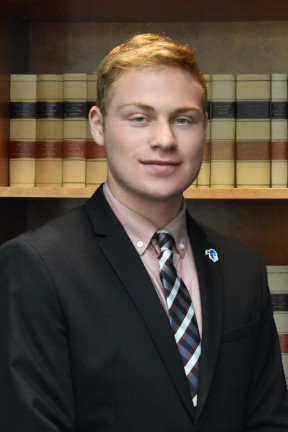 If there is ever a need for someone to help a group strive through a difficult task, Michael Detinich is a great person to go to. His understanding of the importance of character and his outlook on how to achieve success make him an ideal choice. As a leader, he strongly believes that the success of a project relies on how an individual or the group views the task at hand. More specifically, Michael asserts that "to be successful, one must first be optimistic about the outcome. Without optimism, you will never see the light at the end of the tunnel nor find a way to get there. Then, after establishing an optimistic tone, one must be determined to give all their effort in completing the task in the best way possible. Together, this is what puts you on the path to success."
Although he lives by this mindset, it is a lesson he attributes to his upbringing. As a first-generation American, Michael has grown up on the stories of his parents' and grandparents' struggles and accomplishments while living in the Soviet Union and once they arrived in America. These stories are what gave him a perspective on the world and on how lucky we are to have the opportunities afforded to us. As he says, "the opportunities we have today are limitless. It is up to us to decide how we approach them and whether or not we take them."
Furthermore, Michael is always striving to open up his horizons and find ways he can interact with more people. To him, speaking multiple languages is the perfect way to that. This reasoning is what led him to pursue a Spanish minor and perfect his ability to speak Spanish. As a result, Michael is now trilingual, able to speak English, Russian, and Spanish. Combined with his leadership skills developed through the Buccino Leadership Institute, Michael will be able to more effectively lead a wider range of people and positively impact the lives of others. Helping others is crucial to his beliefs about what our responsibilities to the world around us are.
Seton Hall Career Highlights:
Competitively selected to the Buccino Leadership Institute
Gerald P. Buccino Business Leadership Development Honors Program Freshmen Mentor
Executive Board Member of the Seton Hall Financial Planning Association