Meet the New Executive Director of the Joseph A. Unanue Latino Institute
Wednesday, January 12, 2022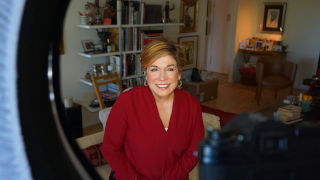 Journalist, writer, chef, avid photographer, and multiple Emmy Award winner Denisse Oller, one of the most honored women in Spanish-language television, is the new Executive Director of the Joseph A. Unanue Latino Institute at Seton Hall University. Or rather, she is back.
"I left the Institute in 2016, after five of the most rewarding years of my professional life. I am extremely proud of what we accomplished, expanding the Institute's impact within Seton Hall and beyond, creating cultural programming for the student body, bringing leaders in the arts, sciences, business, and diplomacy to the university in collaboration with the other schools and associations on and off-campus" said Oller. "When I found out, a few months ago, that the Unanue Institute was looking for an executive director, it occurred to me that I had stayed in contact with the students that I grew close to, helping with advice or professional development. I had a very strong longing to be part of the Unanue Institute/Seton Hall family. I am blessed to be back home."
Oller has been recognized by Hispanic Business Magazine as one of the 100 most influential Hispanic Personalities in the United States. Most recently, she was chosen as one of the 50 most influential women by the prestigious Spanish-language newspaper El Diario La Prensa. Currently, she is the president of Newsworks Productions, L.L.C., a multimedia company that develops instructional material for the Latino community in the U.S.
Ms. Oller, a native of Puerto Rico, began her journalism career in the mid-1980s as a reporter for Telemundo's local New York station, WNJU-Channel 47. She later joined Univision as anchor of the network's first national weekend newscast and as the network's news bureau chief in Los Angeles. This position marked history for Denisse, becoming the first Puerto Rican to anchor a national news show.
Denisse Oller's outstanding journalistic work includes interviews with statesmen, world-renowned writers such as Isabel Allende and Mario Vargas Llosa, Carlos Fuentes and Octavio Paz, and other prominent figures in the world of politics and culture. In addition, she has covered major news events such as the 9/11 terrorist attacks, the Oklahoma bombings and the 1993 earthquake in Northridge, California, presidential elections, summits, and the historic visit of Pope John Paul II to Cuba, where she interviewed both dissidents and government officials.
Denisse's work in media has brought her widespread recognition and awards such as seven Emmys, nine Emmy nominations, five A.C.E. Awards, two Gracie Awards given by the American Women in Radio and Television organization, and the Edward R. Murrow Award for excellence in investigative reporting.
In recent years she has worked at SOMOS, a nonprofit organization providing health services to the neediest. Her most recent work in the field of health and preventive care on behalf of underserved communities in New York was recognized with two Emmys in 2021.
Categories: Arts and Culture, Education