The Joseph A. Unanue Latino Institute has 6 Students Graduate from the Governor's Hispanic Fellowship Program
Tuesday, October 31, 2023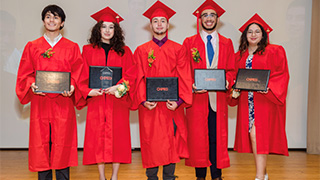 The Joseph A. Unanue Latino Institute at Seton Hall University proudly believes in advancing, educating, and transforming students into the next generation of servant leaders. Under the leadership of Cristina Cosme, the Joseph A. Unanue Latino Institute promotes various opportunities for scholars and students throughout Seton Hall University campuses. Cristina's guidance and leadership led to having six Seton Hall University students graduate from the New Jersey Center for Hispanic Policy, Research, and Development Governor's Hispanic Fellowship Program during the summer of 2023.
The rigorous fellowship was an 8-week intensive summer program geared toward leadership and professional development, offering quality internship experiences to Hispanic college students since 1988. Along with the fellowship, internships were also provided to the students. Renowned organizations from across the state provided students with different roles that allowed them to flourish and be able to have the experience needed for professional development. Organizations such as PSEG, AT&T, Bloomberg, Bristol Myers Squibb, HISPA, and Statewide Hispanic Chamber of Commerce of NJ; along with many others.
Seton Hall students, Kevin Arango, Daniela Miranda Calle, Anthony Samaniego, Christian Almestica, Roselyn Figueroa, and Christtian Lopez, were positively impacted by the experiences provided by the program. All worked at various job sites, however, worked and pushed forth together as part of the Seton Hall University community. Furthermore, the uniting factor that brought these aspiring Latino professionals would be the Joseph A. Unanue Latino Institute, who provided resources to be a part of this program.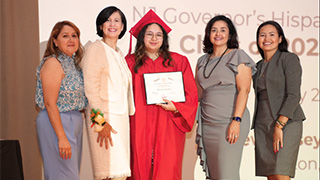 Five scholars, Christian Almestica, Daniela Miranda Calle, Christtian Lopez, Roselyn Figueroa, and Anthony Samaniego, completed the program and are part of the Joseph A. Unanue Latino Institute's 2023-2024 Scholar Cohort. The Latino Institute would like to recognize these scholars, as well as Kevin Arango. With this in mind, we asked these exceptional students for their thoughts on how this program impacted their academic and professional career.
"The CHPRD's Hispanic fellows program was a tremendous personal and professional growth opportunity. I had the privilege to engage in meaningful work and be part of an amazing network I'll carry forward. I encourage anyone interested to apply and take advantage of this unique opportunity." - Kevin Arango (junior, majoring in diplomacy and international relations)
"CHPRD has introduced me to new career opportunities, both professionally and academically. I cannot thank the CHPRD enough for the hours they dedicated to put me in the best position possible to succeed."- Christtian Lopez (sophomore, majoring in finance and technology)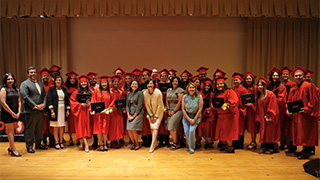 "Being part of the Center for Hispanic Policy, Research and Development this past summer impacted me in a life changing manner; my personal and professional growth reached new levels after completing this internship. The fellows I met this past summer were all from different universities, career fields, and backgrounds though I realized how combining all our skills sets and specialties, we can achieve our desired success for ourselves and our people. Thanks to the CHPRD, I am now aware of various job searching methods and hacks that I didn't know before and I realized the unlimited amount of connections I can make through our networking sessions." - Anthony Samaniego (junior, majoring in diplomacy and international relations, minoring in Latin American and Latino/a studies)
"It has been an invaluable experience that has enriched my knowledge, skills, and professional growth. I am truly grateful for the mentorship, resources, and connections I have gained during this fellowship. I have had the pleasure of receiving the "Outstanding Leadership Award" for the CHPRD Class of 2023. It truly was an unforgettable experience." - Daniela Miranda Calle (sophomore, majoring in criminal justice and psychology, minoring in sociology)
The profound impact of the CHPRD program left students feeling empowered, leading them to develop different friendships and relationships with students from other universities and with different professionals in their own respective fields. The Joseph A. Unanue Latino Institute would like to shine a spotlight on both our scholars and Latino students who are paving the way to success.
Categories: Arts and Culture, Education