Communication Professor Receives National Communication Award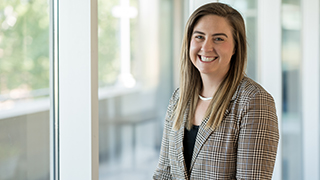 Assistant Professor of Communication Madison Krall, Ph.D. received the Joanna Ploeger Memorial Essay Award for the Association for the Rhetoric of Science, Technology, and Medicine (ARSTM) for the National Communication Association (NCA) in New Orleans.
Jon Radwan, Ph.D., director of the Institute for Communication and Religion, who also attended the conference in New Orleans, said that the event itself brought in "over 4,000 people" with "a lot of excitement and energy" surrounding the conference.
The Joanna Ploeger Memorial Essay Award, named for the late ARSTM President Joanna Ploeger, is an annual award that recognizes the top student papers submitted to the NCA panels in a year. The award recipient presents their work on a panel at the annual NCA conference. Award receipts receive a plaque and are recognized at the ARSTM business meeting.
When asked about her work, Krall shared, "The awarded paper was actually an early version of a chapter from my dissertation where I consider transcripts from two 1997 meetings hosted by the FDA, CDC, and several institutes at the NIH that found representatives from varying health publics discussing the safety and efficacy of the historically controversial drug thalidomide."
Krall continued, "Using the argumentative resources presented in these meetings, I outline the necessary tenets needed for the successful creation of deliberative regulatory rhetoric and explore the pedagogical possibilities made available to differing audiences participating in various risk deliberation processes."
Through courses she's currently teaching, Krall has found connections to her own personal research. "In my Health Communication and Social Responsibility course, for instance, my students and I get to apply rhetorical concepts to complex issues in health and medicine," she said. "My Communication Research Methods course presents opportunities for engaging discussions about the advantages of qualitative methods, such as interviewing, the form of data collection I use in many of my own research projects."
"My work in graduate studies this semester has really given me an opportunity to center my background as a critical and feminist scholar, especially as we consider globalization and how both identities and social justice issues are discussed in and across various organizational spaces," Krall noted.
Overall, Krall indicated she is highly appreciative to be the recipient of the Joanna Ploeger Award: "I respect and admire so many of the award's past recipients, so I feel especially honored for my own work to be acknowledged in this way."

About the College of Communications and the Arts

The College of Communication and the Arts currently offers graduate-level programs in Museum Professions and Communications, with the opportunity to pursue specialty areas of study, including options in Public Relations, Digital Communication/Communication Technologies, and Communication in Organizations. In addition, four dual-degree options, including three accelerated M.A./B.A. programs and a dual M.B.A./M.A. degree with the School of Diplomacy and International Relation are offered.

For more information about Graduate Studies within the College of Communication and the Arts, please contact Ryan Hudes, Ph.D., at [email protected].
Categories: Arts and Culture, Education