Department of History Symposium "Revolutions: Movements and Moments in Historical Perspective"
Monday, January 20th, 2020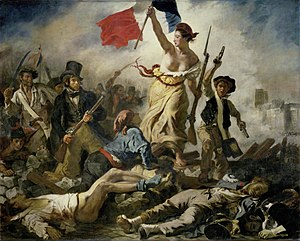 Eugène Delacroix, La liberté guidant le people.
The History Department presents the Sixth Annual Symposium in Comparative History: "Revolutions: Moments and Movements in Historical Perspective." This event will take place from February 6 to 7, 2020.
This symposium will consider revolutions broadly in their social, cultural, and intellectual origins and ramifications, examining the interactions of ideologies, structures, pivotal moments, and social and political movements.
Keynote address: Ervand Abrahamian, Baruch College
"The Iranian Revolution of 1979: Not for Export"
Thursday, February 6, Bethany Hall A
5:30 to 7:00 p.m.
Coffee and Introductions
Friday, February 7, Faculty Lounge, University Center
8:45 to 9:30 a.m.
Interpreting Revolution
9:30 to 11:00 a.m.
Moderator: Thomas Rzeznik, Seton Hall University
"The Re-Invention of 'Revolution': How the Age of Revolution Gave 'Revolution' a New Meaning"
Anna Vincenzi, University of Notre Dame
"Gendered Bodies in Times of Revolutions"
Tracey Rizzo, University of North Carolina—Asheville
"Revolution, Freedom, and Imamate in the Revolutionary Discourse of the Muslim Reformists of Daghestan"
Naira Sahakyan, University of Amsterdam
Coffee Break
11:00 to 11:15 a.m.
Revolutionary Violence
11:15 a.m. to 12:45 p.m.
Moderator: Maxim Matusevich, Seton Hall University
"The Radical Fringe of the American Revolution: Perpetrators of the New York City Fire of 1776"
Benjamin L. Carp, Brooklyn College and CUNY
"A Conservative Revolution? The Italian Risorgimento Reconsidered"
Domenico Maria Bruni, Luiss Guido Carli—Rome
"Representations and Realities of Women, Gender, and Revolution in Central American and the Caribbean"
Aldo Garcia-Guevara, Worcester State University
Lunch Break
12:45 to 1:45 p.m.
Appropriating Revolution
1:45 to 3:15 p.m.
Moderator: Golbarg Rekabtalaei, Seton Hall University
"The Effects of the Haitian Revolution in the Province of Riohacha"
Miguel Durango Loaiza, University of Pennsylvania
"The Iranian Revolution and Social Theory: Towards an Epistemology of the Possible"
Peyman Jafari, Princeton University
"How Revolutionary is Erdogan's Revolution? Assessing What is New and What is Not in the 'New Turkey'"
Howard Eissenstat, St. Lawrence University
Coffee Break
3:15 to 3:30 p.m.
Roundtable Discussion and Closing Remarks
3:30 to 5:30 p.m.
Moderators: Ervand Abrahamian, Baruch College and Nathaniel Knight, Seton Hall University
Acknowledgments:
Many people have made this symposium possible. The organizing committee would like to acknowledge the generous support of the Department of History, the College of Arts and Sciences, and the Office of the Provost. A special thanks to department administrator, Roslyn Jenkins, and graduate assistants, Alexandra Ruiz and Bill Pindell, for their assistance.
Seton Hall University, Department of History, Symposium Organizing Committee:
Categories: Arts and Culture