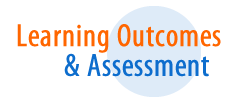 Seton Hall University embraces the principle that effective and meaningful assessment is an integral part of the educational process. This principle is at the heart of our commitment to meet our responsibilities to our students, professions, and the communities that we serve.
Goals
Critical Thinking
Students will acquire the skills of critical thinking essential to historical research, learning how to evaluate materials with regard to context, content, genre, and reliability.


Reading
Students will be able to analyze written texts and discern in them factual statements, interpretive assertions, and stylistic particularities.


Writing
Students will be able to construct coherent historical narratives and express their ideas in well-organized, fluent, and grammatically-correct prose.


Oral Expression
Students will be able participate in historical discussion in a meaningful and informed way, convey their ideas clearly and concisely, and give oral presentations that hold the attention of listeners.


Historical Fluency
Students will learn how to conduct historical research, determine the significance of available primary and secondary source material, and acquire knowledge of how and why societies have changed over time.


Historical Perspective
Students will develop skills to absorb, assimilate, and analyze complex information, from which they will learn to make comparisons, establish connections, articulate differences, and assess the relationships between multiple causal factors.


Global Perspective
Students will be prepared to assess the vast cultural, social, and political differences and similarities human societies have produced over time and around the world.