Seton Hall Alum Coordinates Pharmaceutical Response to COVID-19
Thursday, March 18th, 2021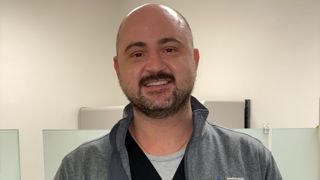 James W. Love Jr., MHA, CPhT, BS '15, MHA '18
Seton Hall Alumnus James Love Jr. credits his training as preparation for his role in this healthcare crisis, stating, "The education and experience I gained through my studies poised me to immediately shift gears in my job function to take on what we in an acute hospital setting referred to as 'war times'." As the pandemic seized the state of New Jersey, with cases rising, Love's day-to-day role as Special Projects Coordinator for the inpatient and outpatient pharmacies of Hackensack University Medical Center meant facilitating many immediate needs projects to take on the ensuing patient surges. One such need was ensuring continuity of medication supply for the hospital's mechanically ventilated patients. Love and his team worked closely with clinical care teams and electronic health record analysts to ensure that supplies of critical care medications continued to be available to patients.
"The rate of transmission and mortality rates the coronavirus presents makes this current pandemic unlike anything healthcare workers have experienced before," says Love. It has taken a concerted effort to save lives and, Love adds, "Through collaborative efforts at the local HUMC and HMH network level between all levels of federal, state and healthcare facility leadership, we have all together improved the safety of citizens, patients and healthcare employees." Love credits his SHU education as affording him the wherewithal to carry out the higher-level functions he performs daily for his department and patients in his current position.
Preparations to receive and handle the Pfizer COVID-19 vaccine began in August of 2020 with Love and the Pharmacy Operational team at Hackensack University Medical Center first addressing logistical and operational concerns for storage and eventual distribution to frontline and patient facing team members. As a team leader at one of the first hospitals in the state to receive the vaccine, Love was tasked with coordinating his team's handling of the rollout of the vaccine in strict accordance with very specific regulatory and efficacy standards. Love worked with various departments on all phases of vaccine procurement, storage, and delivery, and on December 15, 2020 the first vaccines were administered.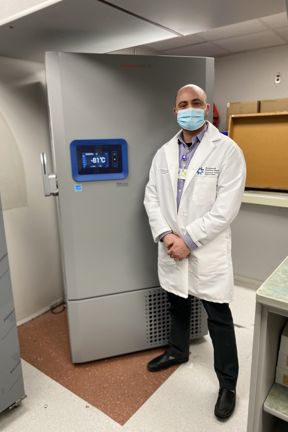 The complexities of vaccine rollout for this particular infectious disease are unlike any other. "HUMC Pharmacy is a large department servicing both the 750+ bed inpatient population as well as multiple outpatient services and departments," Love acknowledges. "However, storage and dispensing of the vaccine could not be mixed with current operations." After identifying secure spaces within the Pharmacy department to house the appropriate vaccine storage equipment, each storage unit requiring protections against power outages and constant temperature monitoring, there are also the logistics of vaccine administration. Love identifies the process documents and flow diagrams conceived at HUMC as crucial to the success they are experiencing. In addition, "daily huddles and action plans" are essential to overcome the challenges and to implement a successful vaccine rollout, as are what Love celebrates as "collaborative efforts by [his] team, facilities management personnel and network leadership support."
This model has paid off. "Currently across the four sites HUMC Pharmacy supports, we can accommodate approx. 4,000 daily appointments and are working to add more!" Love highlights.
Love studied biology in the Seton Hall College of Arts and Sciences earning his Bachelor of Science (B.S.) in 2015 and completed a Master of Healthcare Administration (M.H.A.) degree from the School of Health and Medical Sciences (SHMS) in 2018. He applauds the MHA program's design, citing numerous ways in which the program prepared him for his current work. ". . . to give a specific example or examples significant to the work I perform currently, courses like Emergency Management, Healthcare Management and Strategic Management are texts and examples I draw upon to effect optimal outcomes for my department and organization.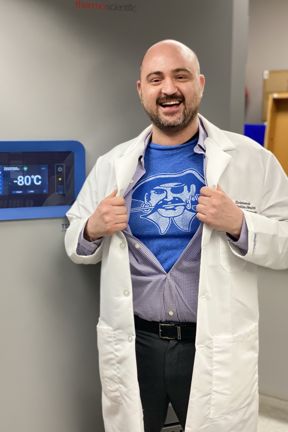 I have the textbooks at my desk at work and from time to time contact my professors for advice. That is another benefit of the SHU MHA program, networking and working relationships past the classroom for life."
Being awarded the Servant Leadership Award from the MHA program during his mid residency was a testament to Love's "serve-first" mindset, which he has carried into his professional role. "One thing that experience in healthcare will prove is that nothing is accomplished alone," Love affirms. "By empowering those around you and on your team, staff's potential can be unlocked, thus promoting a better culture and happier more productive staff" he says. Armed with a stellar SHU education, Love has answered the call of healthcare work and continues to strive for best possible patient processes through and beyond this current health crisis.
Categories: Alumni, Health and Medicine, Nation and World