Biomedical Ethics at Seton Hall
Thursday, January 7th, 2021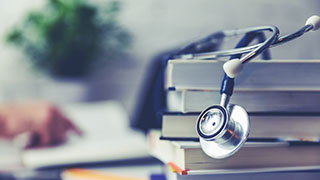 Home to New Jersey's first and oldest Bachelors of Science in Nursing (B.S.N.) program as well as the School of Health and Medical Sciences, which offers advanced and dual degree programs in Physical Therapy, Occupational Therapy, Athletic Training, Physician Assistant and Speech-Language Pathology as well as a doctoral degree in Health Sciences and a Master of Healthcare Administration program, Seton Hall has long enjoyed a robust student body that has chosen the healing arts as its calling.
Perhaps due to its "pipeline relationship" with the Hackensack Meridian School of Medicine, however, in recent years Seton Hall has been home to an increasing number of students interested in pursuing medical training.
But healthcare and medicine isn't just memorizing body parts and procedures; the practice can regularly bring to bear competing interests, values and priorities in literal life and death struggles. In times of scarce resources, who gets what when?
That's where Biomedical Ethics comes in. Taught by Professor Bryan Pilkington (PHIL1130), students read classic texts from philosophical giants such as Aristotle and Immanuel Kant, think through the history of bioethics, and assess current challenges through those value laden lenses.
And in the midst of a pandemic that has claimed the lives of nearly two million lives worldwide, those questions of who gets what and when have come into sharp relief.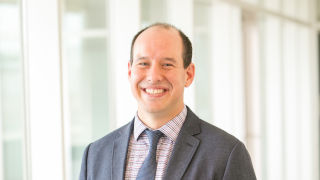 Professor Bryan Pilkington
"Interest in addressing the ethics issues which the pandemic has exacerbated is, I think, a motivation for many of the students to take the course," said Pilkington, who created and led the COVID Ethics Series at Seton Hall, which regularly brought together this last year leading experts from medicine, nursing, and the health sciences, as well as political theorists, economists, ethicists, philosophers and legal experts to discuss the impact of COVID-19 on society. "There are always a number of future nurses and physicians in the classroom for this course, but recently there are more."
One of those future physicians is Renee Samuel, a Biology major, who took the course this last semester. "I want to become a doctor to try and spark change in the medical field. Whether advocating for universal health care or the responsibly prescribing medication to patients, I think that doctors have the power to contribute so much to the population and the community that they're in. Hopefully, when I become a doctor, I can do the same. Doctors are also very influential figures in society, so I think that utilizing that platform for good is something necessary in order to cause any change," said Samuel.
The final assignment for the course pushes students to take all that they've learned and address a pressing bioethics issue that is important to them. Many took up racism in medicine, others took on abuses of Big Pharma, and some evaluated emerging medical technology.
Samuel wrote her paper on the "whistleblower" allegations of substandard medical care and nonconsensual hysterectomies performed on ICE detainees in a privately managed detention facility in Georgia. When asked why she chose this topic, she said, "Honestly, I chose this topic because the reaction that came from the news was not one that I was expecting. I thought there would be more outrage about it, but it was mentioned for maybe a week and then seemingly forgotten. Since it happened a few months before the election, I think people and reporters were more focused on that. I thought that it was disappointing that such a huge violation of human rights was barely addressed in the midst of everything going on. I wanted to do some more research on it to inform myself about it, which I was able to do by writing the paper. Also, since I would like to become a doctor myself, I find it disheartening that there are some in this profession that would perform such procedures under those circumstances. I think the medical field is a great field because you have the ability to help others, but there's a dark past to some medical practices and some not-so great things going on that should be acknowledged and discussed."
"What is happening to vulnerable folks in these facilities is appalling, though sadly unsurprising. Those who are detained, just as many who are in other situations of incarceration, face violations to their dignity regularly," said Pilkington. "Students like Renee who aim to shed light of these unethical situations, rooting their concern in both their humanity, their understanding of history, and their aims as future healthcare professionals gives me hope."
Pilkington is an associate professor in the School of Health and Medical Sciences at Seton Hall University and the Hackensack Meridian School of Medicine as well as an Affiliated Faculty Member in Philosophy at Seton Hall. He also serves on the Editorial Board of the Journal of Medicine and Philosophy and the Editorial Advisory Boards of HealthCare Ethics Committee Forum and Christian Bioethics, and is a Junior Scholar at the Paul Ramsey Institute.
Renee Samuel's paper, "'Ugly History': An Analysis on the Ethical Nature of the ICE Detention Facility in Georgia", may be found archived through the Interprofessional Health Sciences Library.
The COVID Ethics Series at Seton Hall, discussed in the European Journal of Medicine and Natural Sciences, focuses on the various impacts of COVID-19 throughout society. Recordings of the virtual panel events have been archived through the Interprofessional Health Sciences Library and can be accessed here.
Previous panels have covered:
Taking Seriously the Duty to Plan: The Future of Health, Education, Sports, and Politics After COVID
Unmasking Ethical Foundations in the Time of COVID: What We Owe to Each Other
Stop Killing our Patients: Pandemic, Protest and the Outcry for Justice
Discrimination Intensified: Equity in the Time of COVID
Ethics and Questions of Risk in Healthcare: An Interprofessional Discussion
Today and Tomorrow: Prioritizing the Present in the Time of COVID Sports and Recreation in the Time of COVID
Intentions and the Limits of Aid: Best Practices in the Fight against COVID
Pregnancy and Covid-19: Keeping Mothers Babies Well
Lattes and Letters – a student advocacy session
Vulnerability and Dependence in the Time of COVID
Categories: Education, Health and Medicine