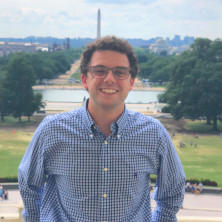 When searching for an international affairs program that was flexible enough to combine his myriad of interests, Matt was drawn to Seton Hall's School of Diplomacy. "I knew I wanted a program that I could customize, add internships and minors to, yet still complete in under four years, and I found that in Seton Hall's bachelor's degree in Diplomacy and International Relations program. I'll graduate in three and a half years, with a minor in French, two internships and a semester of experience in our nation's capital."
The intimate size of the School, its connection to the United Nations, and a steady stream of notable speakers have all allowed Matt to cultivate global interests, ranging from political communications to security and development. "I've been able to talk with diplomats and Foreign Service officers who have worked on development programs in Africa, Latin America, anywhere, you name it. I've really enjoyed talking with them, learning about the challenges in their work, and how they overcame those challenges."
In preparing for his post-graduate life, he reflects on conversations he has had with other Diplomacy alumni. "I don't think there's any greater feeling than talking to someone who knows that they're doing what they're supposed to do, or they're right where they're supposed to be, and the Diplomacy School helped them get there."
Read Matt's reflections on what he feels called to do next and how the School of Diplomacy is helping him to get there.
Q: What are some of the defining moments of your time with Seton Hall?
A: One of the defining experiences of my student career is definitely the Semester in Washington, D.C. Program. I loved learning directly from a D.C. practitioner – my class was taught by a former Deputy Assistant Secretary of State - who provided unparalleled insight and expertise into how D.C. operates, and how to best navigate D.C. The guidance that I received was a valuable asset to my classmates and I throughout our semester, and I'm thankful to have benefitted from this access and exposure.
Further, the Semester in Washington, D.C. Program gave me the opportunity to put my coursework into practice. Interning at the Senate Foreign Relations Committee and Mercury Public Affairs, took the theory I learned in class out of the abstract and made it more concrete, all while exposing me to a world of politics, policy and media that we don't see very often in the tri-state area. Participating in the D.C. program boosted the skills and confidence that I am relying on in my job search.
Serving in leadership positions within the Student Alumni Association (SAA), including as a True Blue philanthropy team leader and also SAA President, provided me with some of my most impactful leadership experiences to date. These roles taught me how to manage multiple projects at once, speak up to guide not only the direction of projects but also the direction of an organization, and carry myself with poise and confidence in conversations with University leaders.
Q: What's next for you after graduation?
A: After graduation I will be working in political communications. The Semester in Washington, D.C. Program and the guidance that I received from Diplomacy faculty helped me develop a roadmap for how to combine my interests in media and politics.
The skills and knowledge I gained from my role as a student ambassador at events with the Diplomacy school and Student Alumni Association gave me the confidence to network with communications professionals at high levels in local and national government. My experiences at Seton Hall have equipped me to take initiative and serve others.
Q: What advice would you give your freshman-self, and future Diplomacy students?
A: The biggest piece of advice I would give to new students is to seek out as many mentors as possible, and to never be afraid to ask for advice. The skills and relationships I developed as a Diplomacy student have furthered my personal and professional growth and inspired me to pay it forward by helping fellow Pirates in the future.
I've been lucky to call several members of the Seton Hall community mentors during my time as a student. The Media Relations team challenged me to grow as a writer and communicator. I know that I can continue to go to them for advice as I start my career in communications. My French professor has given me a truly global perspective through the lenses of language, culture and French identity. And I cannot sing higher praises of the Diplomacy faculty who teach down the street from The White House, who have been more than generous with their insider knowledge of Washington, D.C. These conversations helped confirm my passion for public service that I am excited to put into action when I graduate in December.
Seton Hall Career Highlights
President, Student Alumni Association
True Blue Philanthropy Team Leader, Student Alumni Association
Designed and coordinated the inaugural True Blue Pumpkin Smash to raise funds for student scholarships
Publicist, Office of Media Relations
Completed Semester in Washington, D.C. Program
Interned with the Senate Foreign Relations Committee and also Mercury Public Affairs
Writer, The Diplomatic Envoy and The Stillman Exchange
Sergeant at Arms, Seton Hall United Nations Association (nationally ranked collegiate Model UN team)