Inside the Core This Week: Ellen Scully, Ph.D., Presents on Her New Book
Monday, September 26th, 2022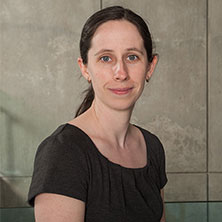 Inside the Core this week, we are very excited to have our first Scholars' Forum in the Catholic Intellectual Tradition for this academic year of 2022-2023 on Wednesday, September 28, at 4 p.m. via TEAMS. Ellen Scully, Ph.D., an Associate Professor and Chair of Undergraduate Theology in Immaculate Conception Seminary School of Theology, will be presenting on her recent book, an anthology co-edited with Anthony Brigg, on the methodology of studying early Christian theology, entitled New Narratives for Old: Reading Early Christian Theology Using the Historical Method (CUA Press, 2022). Dr. Scully's first book was Physicalist Soteriology in Hilary of Poitiers (Brill, 2015).
The book, as noted on the website of Catholic University Press, offers examples of high praise from other scholars. For instance, John Gavin, SJ, author of Mysteries of the Lord's Prayer: Wisdom from the Early Church (CUA Press), says, "This volume stands out for its presentation of the historical method in the study of early Christian theology, as well as for the high-quality articles that illustrate these approaches. It is wonderful to have these essays gathered in one volume for consultation." Also, Joseph T. Lienhard, SJ, of Fordham University notes, "The discipline of historical theology has flourished among Catholics for the past century and more. Michel Barnes has made a noteworthy contribution to that discipline, and the authors presented in this volume offer him a fitting tribute, in a collection of essays that range historically from Irenaeus to Gregory the Great, with Trinitarian theological questions and the problems of Christology as central. But the concept that dominates the whole, and most appropriately so, is 'method.'" The book clearly is a serious and much-needed work of scholarship in a field crucial to the Catholic intellectual tradition.
Besides teaching and serving as Chair of Undergraduate Theology in ICSST, Professor Scully also teaches in the Core. Her presentation promises to be very interesting and particularly relevant to Core I and II classes, where early Christian readings are important to both. We are very grateful she will be presenting to us. The event is co-sponsored by Immaculate Conception Seminary School of Theology, the Catholic Studies Program, the Catholic Studies Center, along with the University Core.
The Event
Read Professor Scully's Book: New Narratives for Old: Reading Early Christian Theology Using the Historical Method (CUA Press, 2022)
Microsoft Teams Meeting:
Join on your computer, mobile app or room device
Click here to join the meeting
Meeting ID: 286 506 283 165
Passcode: oXUaEK
Download Teams | Join on the web
Or call in (audio only)
+1 908-512-7307,,984230706# United States, Elizabeth
Phone Conference ID: 984 230 706#
Upcoming Scholars' Forum Events:
(the link will be the same for each event)
October 26 - Dr. Donovan Sherman, English Dept. Arts and Sciences
November 30 - Dr. Dermot Quinn, History Department, Arts and Sciences
Categories: Arts and Culture, Faith and Service