New Partnership Offers Continuing Education Resources to Seton Hall Community
Monday, February 13th, 2023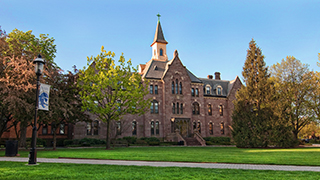 Seton Hall's Division of Continuing Education and Professional Studies has recently partnered with UPCEA, the leading association for professional, continuing and online (PCO) education.
The association serves its members and advances leadership in PCO education with innovative conferences and specialty events, research and benchmarking information, professional networking opportunities, free custom consultations and timely publications. UPCEA provides many resources for higher ed professionals across the university, and now any Seton Hall faculty or staff member can create an account and access their materials online.
Seton Hall's leaders in professional, continuing and online education can now turn to UPCEA's research and consulting for their actionable benchmarking and consulting needs. This provides industry-wide research for UPCEA members, and offers contract market research, benchmarking studies, and custom data exploration at member rates far below industry average.
"I am excited for the Seton Hall community to begin leveraging the insights that UPCEA provides into evolving trends and dynamics in higher education," said Assistant Provost and Dean of Continuing and Professional Education Mary Kate Naatus, Ph.D. "The research and advocacy that is provided by UPCEA will provide a great deal of value to us, and we can also leverage expertise from colleagues at many institutions across the country with UPCEA's multiple platforms for networking and information sharing."
Additionally, Seton Hall members can take advantage of UPCEA's Online Professional Development Certificates and Courses that offer high-value and relevant content for practitioners at all levels, as well as engagement with peers from across the field. Special member rates help members build expertise, advance their careers, and become leaders in the field of professional, continuing, and online education.
"UPCEA is happy to have Seton Hall University as a member! The Continuing Education and Professional Studies staff now has access to valuable networks, resources, and research, which will help serve SHU's learners," said Matt Norsworthy, Ed.D., Director of Membership Experience, UPCEA.
Other UPCEA Member benefits include:
Representation on the Council for Credential Innovation - a body of senior leaders charged with driving non-degree credential strategy
Access to CORe - a dedicated 24/7 online community filled with advice, ideas, and answers to today's most pressing challenges
Custom consulting and program reviews led by higher education leaders and industry experts
Networking with over 13,000 individual professional members who share a passion for expanding higher education and serving today's online, professional and continuing education students
Mentorship opportunities (UPCEA UPlift Experience)
Continuing Education and Professional Studies at Seton Hall University provides professionals with opportunities to continue their education, earn credentials, advance their careers, and enjoy personal enrichment. The division offers a wide array of programs as well as credit and non-credit workshops, courses and certificates. Courses are convenient, flexible, and taught by knowledgeable, talented Seton Hall faculty and industry experts — on campus, off campus and online.
A few professional development certifications offered at Seton Hall include:
The Certified Financial Planner® Professional Certificate Program was developed in partnership with the Stillman School of Business, with working professionals in mind. As a CFP® Board Registered Program, Seton Hall provides comprehensive instruction with an emphasis on quality client service; all completed within a 10-month period.

Two self-paced online market research courses are designed for anyone interested in learning more about market research and ways to conduct and leverage it to make better business decisions. These two certifications will expand students' knowledge about customers, products, services and employees.
The online iTHIRST Spiritual Companionship Certification Training seeks to provide a spiritual remedy to those suffering from addiction through the development and implementation of programs designed to educate and prevent, to provide support to treatment facilities and those incarcerated, and to develop an aftercare community for the afflicted and their families.
Created by the College of Nursing, the Youth Mental Health First Aid course teaches how to identify, understand and respond to signs of mental illness and substance use disorders in youth. This 6-hour training gives adults who work with youth the skills they need to reach out and provide initial support to children and adolescents (ages 6-18) who may be developing a mental health or substance use problem and help connect them to the appropriate care.
The Introduction to Critical Care Ultrasonography is a new course designed by College of Nursing faculty that introduces the learner to use ultrasonographical examination to detect cardiac, pulmonary, vascular, and abdominal abnormalities. The course includes a didactic presentation of the theory of ultrasonography and hands-on experience in performing ultrasonographical examination techniques on standardized patients. To learn more about these programs or to propose a continuing and professional education module or topic, please contact [email protected].
About UPCEA
For more than 100 years, UPCEA has served most of the leading public and private colleges and universities in North America. Founded in 1915, the association serves its members with innovative conferences and specialty seminars, research and benchmarking information, professional networking opportunities and timely publications. Based in Washington, D.C., UPCEA also builds greater awareness of the vital link between contemporary learners and public policy issues. Learn more at upcea.edu.
Categories: Education