High School Students Present at Entrepreneurship Showcase
Thursday, August 3rd, 2023
Seton Hall University, in partnership with Greater Newark Enterprises Corporation (GNEC), hosted 40 high school students from 12 area high schools for two weeks, culminating with a dynamic showcase and pitch competition where student entrepreneurs competed for prizes.
"Wells Fargo is once again proud to support the Summer Entrepreneurship Institute, which is part of our broader commitment to small business growth as the Bank of Doing," said Tomas Porturas, Senior Community Impact & Sustainability Specialist at Wells Fargo. "These students are not only investing in their own futures, but they are also working to tackle societal challenges and invest in the future of our economic well-being in northern New Jersey. They are change agents, and we look forward to all they will accomplish."
Students developed business ideas and pitched them during the last meeting of the course, when pitch day guests were given a chance to fictionally invest in the concepts.
"The GNEC-Seton Hall Summer Entrepreneurship Institute was very dynamic and a wonderful experience for all involved. The technical training and mentorship by GNEC provided hands-on practical learning in a team environment that fostered innovation thinking and collaboration. It is so inspiring to witness these young leaders in action, and we can feel confident in their future contributions to our communities and our world," said Mary Kate Naatus, Assistant Provost and Dean of Continuing Education and Professional Studies.
The three teams that attracted the highest level of interest from pitch day attendees were awarded cash prizes of $1,000, $750 and $500. Students who completed all coursework receive a Certificate of Completion.
"At GNEC, we believe that helping entrepreneurs grow economically stable businesses is critical to closing the racial funding gap, and that's why we provide capital and resources to businesses from underbanked and underserved communities," said Salama. "Investing in our communities' youth early on is the first step in reaching that larger goal."
The top prizes went to the following teams:
1st place - Mizu - A new company that uses condensation technology on a large scale to offer pure water to underserved communities.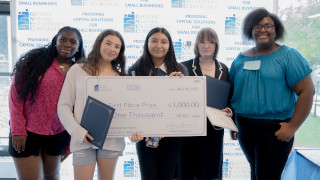 (Left to right) Britney Layva, Chiara Pansera, Amelia Johnson Jackson, Violeta Sanchez, Titi Nina Ekpan
2nd place - Thread - A environmentally friendly business that offers a unique clothing line using repurposed fabric.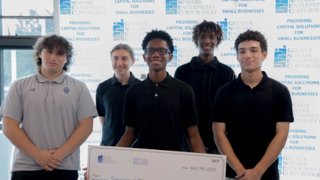 (Left to right) Ben Abrams, Oliver Decheser, Drew Riley, Zach Barron, Isaiah Guerrier
3rd place - Thread - A environmentally friendly business that offers a unique clothing line using repurposed fabric.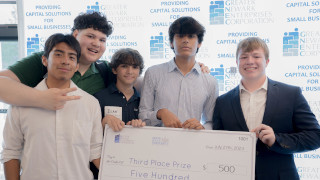 (Left to right) Edwin Garcia-Vargas, Omar Vargas, Ilan Salama, Juandavid Argota, Riley O'Dowd
Categories: Education