What Great Minds Can Do: Nursing/Catholic Studies Dual Major Pursues Data Science Graduate Degree
Monday, January 27th, 2020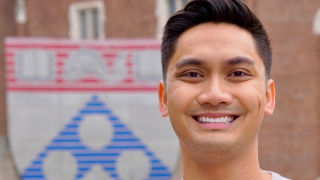 Jordan Mabalatan
On the cutting edge of nursing and engineering, you'll find Jordan Mabalatan, who credits his Catholic Studies major with serving as a catalyst in his career. "The foundation I have developed from my time as a Catholic Studies major has allowed me to have a more holistic worldview—a practice which I have taken along with me in my career," he says.
Although Jordan graduated just a few years ago, his career and graduate studies have already shown his great flexibility and innovation. He is currently pursuing a master's degree in computer and information technology at the School of Engineering and Applied Science at the University of Pennsylvania. But how did a Catholic Studies and Nursing double major wind up studying data science? Part of the answer lies in his dedication to servant leadership. "The education I received as a Catholic Studies major has been integrated as a core aspect of my practice," Jordan remarks. "Seton Hall is Catholic at its core, and the goal of the University is to foster the growth of servant leaders."
Jordan's work as a Nursing major opened the door to a fast-track career in nursing—first, through clinical work at renowned hospitals, and after graduation, through graduate study in nursing and health informatics at Duke University.
Jordan's professional experience at Duke and as an infection preventionist at the Hospital for Special Surgery encouraged him to focus on the human dimension of science. In his present professional role, Jordan is an analyst with Epic Systems, a healthcare software company. He consults with healthcare professionals, who are end-users of the software, and collaborates with technical teams to build solutions, test their design, and evaluate their efficiency.
Jordan explains how the study of engineering has grown naturally from his desire to serve patients and healthcare providers: "While at work, I realized that a solid foundation with the technical aspects of the software would allow me to perform my job at a higher level. I had become familiar with the 'health' aspect of 'health IT' as a nurse, but I wanted to gain a deeper understanding of the 'information technology' portion of 'health IT.'"
Dedication to humanism in healthcare animates Jordan's interest in embarking on a career in tech. He explains, "Identifying areas of improvement and developing the technology in the clinical setting can reduce medical errors, ensure patient safety, and minimize costs associated with healthcare."
Foundational to Jordan's pursuit of a truly interdisciplinary career was his experience as a Catholic Studies major. His colleagues in the program were pursuing various career paths, but they shared a "desire to explore Catholicism's rich Intellectual Tradition." He explains that, similarly, his graduate program at Penn "attracts students from diverse backgrounds with the belief that advanced computer science coursework for people with previous degrees in other areas leads to well-rounded individuals and successful career paths. My goal at Penn Engineering is to combine my clinical knowledge with my interest in technology to solve the complex issues facing healthcare today—one 'bit' at a time."
Categories: Arts and Culture, Faith and Service