Wednesday, September 15, 2021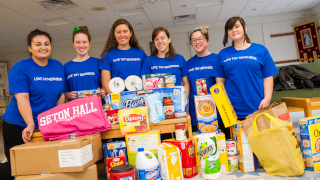 Reflecting on Christianity's fundamental call to action, St. Mother Teresa of Calcutta declared: "Love cannot remain by itself — it has no meaning. Love has to be put into action, and that action is service." This call to genuine service to others — which so many Seton Hall students hear and follow — is the impetus behind one of the University's newest initiatives: a groundbreaking double major partnership for undergraduates, through which they are immersed in both Social Work and Catholic Studies.
Ines Murzaku, Ph.D., Director of Catholic Studies, noted that the new double major program was designed to meet a need that is presented by Seton Hall's students as they seek to reveal Christ's presence in the world: "Seton Hall is blessed with students who deeply desire to make a difference by serving as Christ did. What better way to prepare for a lifetime of service than by immersing oneself in the Catholic Intellectual Tradition through Catholic Studies and learning best practices in compassionately caring for others through Social Work? This program will advance these students' career goals and their thirst for spiritual fulfillment. It's a win-win!"
The Social Work and Catholic Studies double major allows both study and career flexibility for students who wish to pursue a career in social work. Students follow a sequence of courses in Social Work, while they can choose from many offerings in Catholic Studies—both those offered by the Catholic Studies Program and those cross-listed with other programs. Study abroad programs are included among the course options.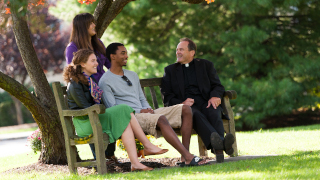 When they are ready to begin their career or attend graduate school for social work, Seton Hall students who have earned a BSW are already a step ahead. Seton Hall's social work program is accredited by the national Council on Social Work Education (CSWE). "Graduating with an undergraduate degree in social work allows students to acquire the CSW license in the State of New Jersey, the first tier of professional licensure in New Jersey. In addition, students who graduate with a BSW degree are eligible for advanced standing at any accredited Master of Social Work program in the United States post-graduation, allowing students to complete their MSW in one year versus the traditional two-year MSW program," explained Mary Landriau, MSW, Field Director of the BSW Program.
Social Work and Catholic Studies double majors at Seton Hall have opportunities for a new internship program (including paid internships) at the world-class St. Joseph's Health system, as well as internships at other Catholic agencies throughout the state, working with the most vulnerable populations. These internships give students a chance to start making a difference right away, as undergraduates, as they work with abused women and children, people with mental illness, undocumented immigrants, and others who are marginalized.
The internship experiences will require students to work in interdisciplinary teams, just as the students will do in their post-graduation careers in social work. Dr. Murzaku noted: "Students who double major in Catholic Studies plan careers in a variety of fields—medicine, computer science, and business, to name a few. Through in-class collaboration with peers with a variety of interests and career goals, but who all share the common core of valuing the Catholic Intellectual Tradition, students who double major in Social Work and Catholic Studies will work toward holistic solutions to today's most challenging problems."
At the core of this new program is an essential coalescence between the drives behind the Social Work and Catholic Studies majors. "Developing this relationship between Social Work and Catholic Studies was a natural step," commented Dawn Apgar, PhD, LSW, ACSW, Director of the BSW Program. "Social Work and Catholic Studies exist to transform lives and bring about a just and compassionate society where every individual is valued, families are healthy and strong, and communities are united in their commitment to the good of all. Students who pursue studies in these fields envision a world touched by mercy: where poverty and need are alleviated, and all people share justly in the blessings of creation."
Students who are interested in this double major program are invited to contact Dr. Apgar at dawn.apgar@shu.edu or Dr. Murzaku at ines.murzaku@shu.edu for further information.
Categories: Arts and Culture , Education , Faith and Service