Professor Murzaku Accepts Invitation to Vatican Network
Wednesday, May 24th, 2023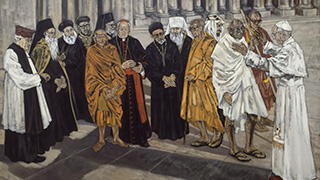 Ines Murzaku, Ph.D., Professor of Religion and Director of Catholic Studies Program, has accepted the invitation to join the International Women's Network, a new initiative of the Vatican Dicastery for Interreligious Dialogue.
The network, which developed as a result of an international conference in January, brings together women leaders, scholars, and practitioners in different faith communities from around the world to engage in dialogue to find mutual understanding, appreciate differences, promote human dignity, and encourage peace.
Msgr. Indunil Kodithuwakku, Secretary of the Dicastery for Interreligious Dialogue, considers the network to be an important step for the Dicastery to promote the participation of women in interreligious dialogue. He explained, "Women are often on the front lines of dialogue efforts in families and on the grassroots level, exercising their skills to foster peace in situations of conflict. Their perspectives also need to be heard more clearly on national and international levels."
"It is an honor for me to be able to participate in these ongoing discussions with women who all want to build the culture of encounter," said Murzaku. "It is through dialogue that we can better understand and appreciate one another, and that we can learn of the unique gifts we have to promote the common good. We start with building relationships with one another — with understanding and appreciating one another. This opens us up to sharing ideas and making progress in collaboration in all areas."
Murzaku has been instrumental in various initiatives of the International Federation of Catholic Universities (IFCU) since Seton Hall joined this prestigious group in 2021, serving as the leader of the Catholic Studies Think Tank of the IFCU and promoting interdisciplinary and international collaboration. She is also involved in interreligious dialogue internationally, and her participation in the network will help her gain an even broader perspective as she collaborates with others in interuniversity, international, and interreligious settings to seek solutions to global challenges.
Murzaku has joined two of the meetings of the International Women's Network so far, and she anticipates attending two more in the remainder of its four-month initial period of networking. This phase of the initiative involves the participants engaging in dialogue on themes pertaining to interreligious dialogue, focusing on various religious traditions' insights into the culture of encounter. The discussions are led by women representing each of the religious traditions, and they include ample opportunity for question and reflection by the participants of other faiths. Conversations so far have focused on Catholic and Dharmic (Buddhist, Hindu, Jain, and Sikh) perspectives, with the remaining discussions to focus on Abrahamic religions (including Catholicism as part of this broader family), Zoroastrianism, Taoism, Shintoism, Confucianism, and African Traditional Religion.
While this is the first phase of the activity of the International Women's Network, it is anticipated that the dialogues will continue, and that material results will include not only written output from the discussions but also plans for encouraging "women's leadership in social, economic, religious and political life at local, national and international levels." Further the network is intended to raise awareness of how the world's religious traditions and practices inspire all to pursue peace and promote the common good with purpose and enthusiasm.
The work of the network is reflected in the painting "Followers of God" (1978). As explained on the website of the Dicastery for Interreligious Dialogue, "To express the 'Universality of the Church,' French artist Dolores Puthod painted (400 x 300 cm) a canvas to honor Pope Paul VI, who initiated and sustained dialogue at all levels in order to seek unity of all Christians and establish harmony and mutual respect among all religions. His role during and after the Second Vatican Council, as well as his first encyclical letter, Ecclesiam Suam, are the best witnesses to his person and work concerning ecumenism and interreligious dialogue. In the painting, Paul VI, with his arms open to welcome everyone, is shown in St. Peter's Square during an imaginary encounter. His shadow suggests a form of the Cross of Christ, a symbol of suffering which is common to all people who seek the Truth. The Pope is surrounded by several world religions, which are represented by their respective charismatic leaders who are either living or dead."
It is in the spirit of this work of art that the members of the network engage in dialogue, joining in common to seek the truth and to make the principles of mutual respect and peace integral to the 21st-century world.
Categories: Faith and Service, Nation and World