Faculty Present Catholic Social Thought in Action Academy at International Conference
On June 9-10, 2022, Dr. Ines Murzaku, Director of the Catholic Studies Program, Professor of Religion, and Dr. Anthony Nicotera, Assistant Professor of Social Work, participated in an international conference in Budapest, focused on the legacy of St. Mother Teresa. Drs. Murzaku and Nicotera highlighted an innovative Academy at Seton Hall University: Catholic Social Thought (CST) in Action.
The conference, presented by the Albanian Studies Program at Eötvös Loránd University in Budapest, was titled "Saints as Promoters of Good Neighborliness—Case Study: Mother Teresa." Speakers from around the world delivered talks pertaining to how Mother Teresa and her legacy have united the world through her love for humanity. By highlighting her uniting and peace-bringing spirit, the speakers explored not only how a person may change the world but also how people unite and interact in their devotion to Mother Teresa, improving their relations with one another.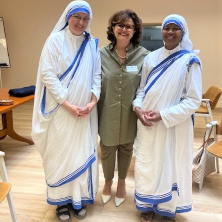 At the conference, Dr. Murzaku presented the keynote address: "Balkan Women: Nurturers of Mother Teresa's Revolution of Tenderness." Dr. Murzaku was joined by scholars and leaders in the Albanian diasporic community as they shared the influence of Mother Teresa around the world. The conference was attended by the Ambassador of the of the Embassy of the Republic of Kosovo in Hungary Mrs. Gjeneza Budima, Charge d'Affaires of the Embassy of the Republic of Albania in Hungary Mrs. Gentiana Mburimi, and Honorary Consul of the Republic of Albania in Hungary Mr. Avni Hafuzi.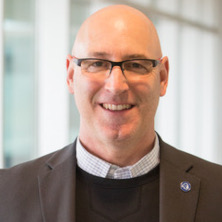 Dr. Nicotera's presentation, "Where Is the Love? Mother Teresa and Seton Hall University's Catholic Social Thought in Action Academy," gave this innovative program at Seton Hall time in the spotlight. Enlightened by Mother Teresa's spirituality in action, the CST in Action Academy has integrated principles of Catholic Social Teaching with the Social Work curriculum in a way that respects students with diverse religious beliefs. The CST in Action Academy has supported the infusion of Catholic Social Thought into the University experience by, in only seven months, developing a Core 3 "Catholic Studies and Social Work" course, developing a "Catholic Studies in Action" service-learning course, and sharing the findings of the Academy in many conferences. This latest conference presentation allowed Dr. Nicotera and Dr. Murzaku to share this model for a rigorous academic program that fully integrates both Catholic Studies and study in a practicum-based social science field.
In Dr. Nicotera's presentation of the CST in Action Academy, he included the schema of the "See, Reflect, Act Circle of Insight," as he developed it through his time living and working in Calcutta with Mother Teresa and the Missionaries of Charity. Inspired by Mother Teresa asking him "Where is the love?," Dr. Nicotera, in collaboration with Dr. Murzaku and Dr. Dawn Apgar, Director of the BSW Program, Assistant Professor of Social Work, founded the CST in Action Academy, which seeks to promote a spirituality of love and service, centering on those on the periphery, consistent with Mother Teresa's insights and sacred, prophetic witness. Drs. Nicotera, Murzaku, and Apgar are joined on the CST in Action Academy leadership team by Amanda Cavanagh, Assistant Director, DOVE, Social Work MSW student; and Giselle Pineda, Undergraduate Student Leader.
Dr. Nicotera explained, "In the spirit of Mother Teresa, the Academy calls us to a pedagogy and practice of holiness, belonging, beloved community, interbeing, revolutionary love, and to a spiritually sensitive, socially just, transformative social work practice."
Dr, Murzaku shared about the significance of this conference that it was "a celebration of the living legacy of Mother Teresa—putting into action her spirituality of being a true neighbor. It was an honor for us to be able to share with a receptive international audience—who will undoubtedly seek ways to follow our model—how we at Seton Hall are being faithful to Mother Teresa's legacy, in preparing our students to care for those on the peripheries. Dr. Nicotera's presentation highlighted what's best at our University and what's best in the human spirit."
"It was a true privilege, pleasure, and blessing to be included in this conference," said Dr. Nicotera.
Categories: Faith and Service