Faculty Honored for Service-Learning Innovation to Present at National Conference
Friday, January 20th, 2023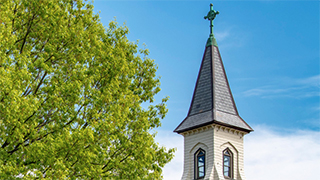 Three Seton Hall faculty members will present their work through the Catholic Social Thought (CST) in Action Academy at the 2023 Community Engaged Scholar-Practitioner Network (CESPN) conference sponsored by the Association of Catholic Colleges and Universities (ACCU) and Uniservitate, a global program for the promotion of service-learning in Catholic Higher Education. ACCU serves as the North American Hub for Uniservitate activities in the US and Canada.
The CST in Action Academy, coordinated by Dawn Apgar, Ph.D., associate professor, Department of Sociology, Anthropology, Social Work, and Criminal Justice; Ines A. Murzaku, Ph.D., professor, Department of Religion, director, Catholic Studies Program; and Anthony Nicotera, J.D., D.S.W., assistant professor, Department of Sociology, Anthropology, Social Work, and Criminal Justice, had already received international attention prior to this award.
Established in November, 2021 through the Provost's Office and the Office of Grants and Research Services Innovation Challenge Grant to deepen research, the CST in Action Academy has supported the infusion of Catholic Social Thought into the university experience by developing a Core 3 Global Justice: Integrating Catholic Social Thought Into Social Work Practice Worldwide course, developing a service-learning course (Catholic Social Thought in Action: Social Work and Catholic Studies Service-Learning Internship), and sharing the findings of the Academy in many conferences. Seton Hall's new Catholic Studies and Social Work double major program, supported by the CST in Action Academy, has been recognized internationally as a model for potential similar programs.
Apgar, Murzaku, and Nicotera will present their work at the CESPN Conference on February 4th in Washington, D.C. The title of their conference session is "Vatican II's Gift: Servant Leadership in Catholic Education." Each of the three faculty members will discuss the project from his or her own perspective. Apgar will deliver a talk titled "Social Work: The Professionalization of Servant Leadership and Taking Action to Realize the Vatican II Gifts." Murzaku's presentation will be "The Enduring Gift of Vatican II: Service and Leadership Vocations." Nicotera will discuss "Vatican II's Theology of Service and Justice in the Fierce Urgency of Now: An Abiding Commitment to Dignity, Solidarity, and the Common Good." Leaders in the service-learning initiative in Catholic higher education will be in attendance and will use the CST in Action Academy as inspiration for similar endeavors in other universities across the nation.
ACCU "serves as the collective voice of U.S. Catholic higher education. Through programs and services, the association strengthens and promotes the Catholic identity and mission of its member institutions so that all associated with Catholic higher education can contribute to the greater good of the world and the Church." Joseph E. Nyre, Ph.D., president of Seton Hall, is a member of the Board of Directors of ACCU.
Categories: Faith and Service