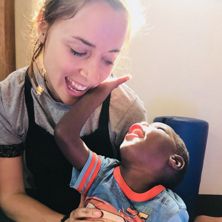 The Catholic Studies Program/Department present "Living Life Fully Alive" a conversation with Clare Byrne on Tuesday April 13 5:30 p.m.-7:30 p.m. EST via ZOOM.
How can faith be lived out in the workplace? What does a faithful person look like in the working world? You are invited to meet Clare Byrne, a Seton Hall University graduate living a fully faithful and professional life in Uganda, Africa.
Join Zoom Meeting by clicking here.
About the Lecture:
In our culture today - everything around us wants to be devoid of pain. We shy away from being vulnerable from being real or from anything that might make us feel uncomfortable. After graduating from Seton Hall eight years ago, Clare Byrne took a wild and scary step onto a plane bound for Uganda, East Africa. She left her family, amazing friends, a stable job, source of income, and a beautiful community to travel to a place where she initially knew no one; rats and lizards kept her company at night. Has her journey been easy? Absolutely not, but she has learned that sometimes our greatest fears in life can be utilized to help us become who we are created to be for the world.
About the Speaker:
Clare Byrne was born and raised in northern New Jersey and graduated from Seton Hall University with a master's degree in occupational therapy in 2012. Ever since Clare could remember, God had etched in her heart the desire to serve children with disabilities. However, how this service was to take place, was always a resounding question in her mind.In 2013 an opportunity arose for Clare to travel to Uganda, East Africa. There she volunteered for a year as an occupational therapist to a population of children with severe disabilities. In 2016 in Uganda, Clare founded Imprint Hope, a non-profit organization, designed to raise awareness, break down barriers, and overcome the stigma that children with disabilities in Uganda face on a daily basis.
About Catholic Studies:
The Catholic Studies program at Seton Hall University offers an innovative, interdisciplinary curriculum for students of any creed who are interested in deepening their knowledge of Catholicism's rich intellectual tradition and living heritage. Combining the study of history, philosophy, theology, literature, art, sociology, and other disciplines, Catholic Studies focuses on the Church's dialogue with culture and encounter with the world. Students interested in Catholic Studies have the option to pursue a major, minor, or certificate that complements and enhances the university's other degree programs and fields of study. Over 20 years the academic program and its variegated activities have stayed true to and fulfilled the Catholic mission and vision of the University. For more information, please contact Ines Murzaku, PhD, Director of the Program of Catholic Studies at ines.Murzaku@shu.edu or Gloria Aroneo at Gloria.Aroneo@shu.edu
Categories: Alumni , Faith and Service , Nation and World