Students Visit Stillman Alumnus Entrepreneur Company
Wednesday, December 14th, 2022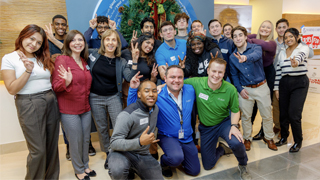 Seton Hall University students had a wonderful time visiting Fusion Health, one of the state's fastest growing technology companies, based in Woodbridge, NJ on Friday, December 9. Fusion Health manages the health records of nearly 1 million inmates daily, the largest vendor of its kind.
Stillman School of Business alumni, Bryan Jakovcic '09, owner and president spoke with students about his startup journey, and Brian Sumereau '21, who joined Fusion Health after graduation, shared his experiences with the thriving company and exposure to many departments and projects.
Fusion Health is rapidly growing and looks to hire students and new graduates for internship and full-time jobs.
Jorge E. Rivera, Director of the Career Center, shared his appreciation to those who organized and attended this event:
A special thank you to Fusion Health and Prof. Susan Scherreik, Director of the Center of Innovation and Entrepreneurship (CIE) and Seton Hall Entrepreneurship for arranging this trip for students to expand their career horizons and find out how a college start up became a national health software provider. Thank you to Professor Ben Lowe and Assistant Director, Christine Milano for accompanying students on this fun trip.
Categories: Business, Campus Life