The Career Center Hosts "Boss Lady" Event in Celebration of Women's History Month
Wednesday, April 5th, 2023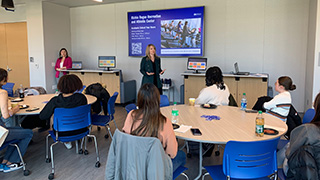 Students listen to Jennifer Santiago's presentation, "Value of Diversity and Female Leadership in the Workplace."
The Career Center brought together students on campus on March 16 for "Boss Lady," a leadership and networking event, in collaboration with the Women's Network, Women of Diplomacy, Women in STEM, and PERIOD SHU.
During the event, students received networking training and participated in an interactive workshop on female leadership moderated by Jennifer Santiago with a Q&A afterward. Santiago is a talent acquisition manager at Enterprise Holdings, where she has over 15 years of experience. She also provides college students and young professionals with career development and education on opportunities in sales management.
Santiago touched on a variety of topics in her workshop titled "Value of Diversity and Female Leadership in the Workplace." Santiago began by explaining that a diverse workplace includes individuals with a variety of talents, skills, and experiences.
Santiago then zeroed in on women in the workplace. She first discussed the challenges they face, such as increased burnout, lack of recognition, and microaggressions. Santiago went on to pinpoint five things women want in the workplace: flexibility, employee well-being, DEI, challenging work that makes them feel fulfilled, and a connection to the mission. To obtain these things, some resources and techniques Santiago suggested utilizing were diverse mentors in the workplace, leadership support, training, and professional development.
Santiago ended the presentation by discussing female leadership at Enterprise Holdings, her journey at the company, and how students can start their careers there. Through the program, Santiago said employees start at entry-level with a career path to management. After her formal presentation, students had the opportunity to ask Santiago questions in a more informal setting while attendees enjoyed lunch together.
Olivia Amorosi, a junior diplomacy major, said she enjoyed the sense of community that Santiago was able to create amongst the women present at the event.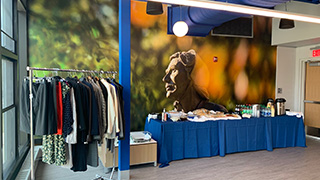 Students were able to shop items from the Pirate's Closet, and lunch was served courtesy of Gourmet Dining Services.
"One of the main things I had taken away from this event was Jennifer's notions on confidence as a female in a heavily male-dominated workforce," Amorosi said. "Since many of us who attended the event will likely experience this at one point or another, I felt this was an important point Jennifer made to take away with me."
Isabella Joseph, a junior business management and economics double major, and vice president of The Women's Network, also said she enjoyed networking with Santiago and her peers.
"My favorite part of the event was sharing our professional, academic, and life experiences to enrich each other and empower each other as women in a workforce that carries a deficit of women to men, which we hope to see a change in in the future," Joseph said.
Olayinka Bishi, a junior public relations major, said the most important thing she learned from the event was advice about conflict resolution.
"I learned that it is best to approach a conflict with a solution-first resolution and have since then actually used it in my daily life," Bishi said.
"Boss Lady" also allowed attendees to shop for pieces from Pirate's Closet. Pirate's Closet offers students access to a variety of professional attire at no cost to help them present themselves confidently at job interviews and networking events. Pirate's Closet is located within the Career Center and is open Wednesday through Friday from 10 a.m. to 4 p.m.
To stay updated on Career Center events, students can browse the website, visit the Engage page, and follow them on Instagram.
Categories: Business, Campus Life