Seton Hall's Accounting Club Hosts Fifth Annual "Roundtables in Accounting" in Partnership with the Career Center
Monday, February 13, 2023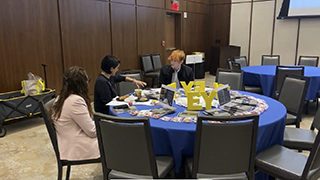 Future accountants interacting with industry professionals at "Roundtables in Accounting" on Jan. 31.
Future accountants had the opportunity to interact with industry professionals at "Roundtables in Accounting" on Jan. 31, an event cohosted by the Seton Hall University Accounting Club and the Career Center.

"Roundtables in Accounting" is an annual networking event where students can meet professionals from the Big Four, midsized and regional firms. The format of this year's event was "speed networking" where students traveled from table to table to speak with industry professionals from participating firms. Students were given seven minutes per table, but they were welcome to return to tables later in the night when open networking commenced.

Industry professionals (including several Seton Hall alumni) from the following 15 firms attended: Baker Tilly, BDO, Citrin Cooperman, CohnReznick, Deloitte, EisnerAmper, EY, Grant Thornton LLP, Johnson Lambert LLP, KPMG LLP, Nisivoccia LLP, PKF O'Connor Davies, RSM, Wiss, and Withum Smith+Brown.

Michael Magnotti, a junior accounting major and vice president of the accounting club, said before the event that it is a great learning opportunity for students.

"I hope that all the students who attend today's event go and meet firms and learn about different opportunities that are available, whether they are mentorship programs, leadership programs, internships, or learning about other opportunities that are available in the future," Magnotti said.

Associate Professor of Accounting and Taxation Theresa Henry also encouraged students before the event to learn as much as they could and take advantage of opportunities.

"I certainly encourage our younger students here at Seton Hall to not wait; explore the opportunities that are available to you," Henry said. "Even for the student that's graduating that already has a position, explore your new firm, and see all they have to offer in every way. Just don't wait because opportunities aren't going to knock on your door."

Giancarlo Visentin, a professional from BDO, urged students to not be afraid to ask questions at their internship or full-time job as it may not be exactly like what they are learning in class.

"If you think it's a stupid question, I've definitely asked it, and I've gotten the answer, and nobody got angry at me about it," Visentin said. "It's not going to be what you're learning in college exactly. Each firm, and each system, runs differently."

While this was described as an accounting event, non-accounting students also attended, one of which being Ryan Rudnick, a junior quantitative economics and IT management double major.

"I thought this was a great event to learn a lot more about each firm's culture and about their internship opportunities for the summer, winter and spring," Rudnick said. "Also, as a nonaccounting student, I was very tentative to attend this event, however I actually found a lot of benefit as being one of the few nonaccounting students as all of these firms have so many other opportunities outside of accounting."

To browse upcoming Career Center events, look at our website, Engage and Instagram.