Career Planning
Certified Athletic Trainers are integral members of the healthcare team in a variety of settings: secondary schools, colleges and universities, sports medicine and rehabilitation clinics, professional sports programs, performing arts, industry and other healthcare environments. Athletic training is a highly rewarding and fulfilling occupation with excellent long-term employment prospects.
Employment of athletic trainers is expected to grow by 23% from 2016-2026.
- U.S. Bureau of Labor Statistics' Occupational Outlook Handbook
Since our program graduated its first student in 2003, all of our graduates who choose to practice are working in athletic training jobs. The strength and reputation of our program is in large part due to our impressive alumni, who are working in premier athletic training settings across the state and the country, and our vast network of clinical partners. Many of our students receive employment offers from the diverse sites where they perform their clinical experiences.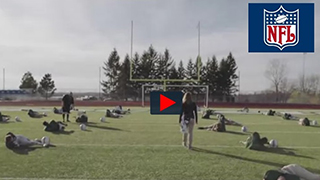 NFL Recognition
TV commercial spotlights the important role athletic trainers play in youth sports.
Where our graduates are working:
NFL - New England Patriots, Kansas City Chiefs, Cleveland Browns
NCAA - Seton Hall University, Rutgers University, Indiana University, Boston College, University of Pittsburgh
Cirque du Soleil, Harkness Center for Dance Injuries
Prominent public and private high schools throughout New Jersey
Industry associations:
Board Certification Information
The Master of Science in Athletic Training at Seton Hall University fully prepares and qualifies its graduates to take the Board of Certification (BOC) examination for athletic trainers. Information regarding the BOC exam including the process of application and related fees can be found on the BOC website.
Master's Degree Requirement
As per an announcement by the national Athletic Training Strategic Alliance, the professional degree requirement to become a Certified Athletic Trainer will be changing to the master's degree. Seton Hall University offers the state's first entry-level Master of Science in Athletic Training (M.S.A.T.) degree program that is CAATE-accredited.
The Career Center at Seton Hall University
This on-campus resource gives our graduates the tools to get their careers off to a strong start. Students and graduates have access to many benefits through The Career Center, including:
One-on-one career counseling
Individualized career development and management plans
Online career assessments
Career events, including resume writing workshops and interview clinics
Pirate Mentor Program with access to an extensive network of thousands of Seton Hall alumni