This Great Mind Mixes Green Chemistry with Compassion
Thursday, June 20th, 2019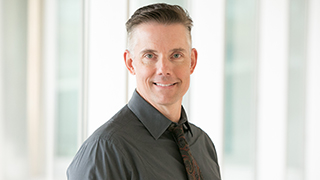 What makes a great mind? While some may suggest it is a high IQ, quite often it's the combination of intellect plus many other holistic attributes. David A. Laviska, Ph.D., assistant professor in the Department of Chemistry and Biochemistry, is such an example: he is equally as passionate about opera and classical music as he is about chemistry, and while he provides a rigorous curriculum for his General Chemistry classes, he still takes the time to relate to his students.
Laviska was recently nominated as a "Great Mind" by several students as part of the "Great Minds on the Green" event hosted by the Office of Public Relations and Marketing. Inspired by Seton Hall's new "What Great Minds Can Do" branding campaign and in partnership with the Petersheim Academic Exposition, the event showcased various brain teasers and competitions. Attendees also could nominate a student, faculty or staff member to be featured as a "Great Mind of the Week" on the University's website. Along with student Brian Pulverenti, Laviska was chosen as the faculty winner.
Originally from upstate New York, Laviska earned his B.A. in chemistry at Cornell University. Having developed an appreciation and talent for music at an early age, he also studied music theory and performed in the university's Symphony Orchestra, as well as other ensembles. He went on to receive his M.S. from the University of Washington, then worked as an analytical chemist with the U.S. Environmental Protection Agency for 10 years.
Wanting to turn his career more toward fundamental research, he returned to graduate school at Rutgers University, where he studied organometallic chemistry and catalysis with the intent of finding a fulfilling position in the industry. Then his plans took a turn: after a year as a teaching assistant in an organic chemistry class, he received a teaching award due to glowing student evaluations. Seeing how he could positively affect his students, Laviska decided to become a professor, graduating with a Ph.D. in 2013.
After teaching at several other New Jersey colleges, Laviska joined Seton Hall as an assistant professor in 2017. His research interests include working with late transition metal elements, "an extremely versatile group of metals that can give and take electrons to facilitate many different kinds of important chemical reactions." He also is increasingly focused on the emerging field of Green Chemistry and is currently mentoring several undergraduate researchers working in this area. Green Chemistry is based on a set of principles that reduces or eliminates the use or generation of hazardous substances in the design, manufacture and application of chemical products.
Alongside Professors Wyatt Murphy, Ph.D. and Cecilia Marzabadi, Ph.D.; Professor Emeritus Robert Augustine, Ph.D.; and Setrak Tanielyan, Ph.D., technical director of the Center for Applied Catalysis and Green Chemistry (CACGC), Laviska is heavily involved in the chemistry department's new initiative to infuse green chemistry practices into Seton Hall's teaching and research labs. This is in keeping with the goals of the American Chemical Society (ACS), the national professional organization of chemists which seeks to promote global focus on Green Chemistry and sustainability. Laviska will be attending the ACS Fall 2019 National Meeting and Exposition in August along with three of his undergraduate Seton Hall students. In addition, the ACS has invited Laviska to give a talk in March 2020 as part of a symposium on Diversity, Equity and Inclusion for undergraduate and graduate students.
The ACS also plans to add Seton Hall to its list of higher education institutions that focus on teaching "greener," which means rewriting experiments so they are safer, generate less waste, use less expensive reagents and consume less energy. Summer laboratory classes piloting the initiative are already in progress at Seton Hall; over the coming academic year, the Organic Chemistry I and II laboratory sequence will have a total of 22 experiments that are new or revamped to be greener.
Laviska strongly believes that this initiative will "raise the profile for Seton Hall on a national stage in terms of its science program." He feels that Seton Hall is an ideal fit for him and is extremely proud to be here. "I love the student body and its diversity," he said. "I hold my students, fellow faculty and staff here in the highest regard."
Nicholas H. Snow, Ph.D., founding endowed professor of chemistry and biochemistry, recognizes Laviska as a positive — and progressive — influence on the University. "In a few short years, Dr. Laviska has established himself as a critical member of our department," he said. "He has spearheaded our Green Chemistry initiative, which will ultimately change the way we teach introductory chemistry courses." Snow added, "Besides being one of the best technical instructors I know, his warmth, wealth of life experience and nontraditional career path resonate with students."
The students who nominated Laviska as a "great mind" painted him in a similar light, stressing his ability to forge a connection with each member of his class. "He cares about his students and wants us to succeed," wrote sophomore Lauren Wallace. "He puts the maximum effort into everything he does." Senior William Midolo wrote that he was so inspired by Laviska's teaching that he switched his major to biochemistry.
What is Laviska's philosophy? "Pay attention and listen to students while also encouraging discussion," he said. "I try to be the professor I didn't perceive I had as an undergraduate," he added, recalling his time as a young adult who felt overwhelmed and unsure of himself, with little support from his own professors.
While he acknowledges that he can't make all his students experts in the field, he aims to improve their understanding by showing connections between real life and chemistry. He also concedes that it's not an easy subject. "I honestly love chemistry, but it takes a lot of work, like learning a new language," he said. "For me, it took years to get there. It was only when I got to graduate school that the light bulb came on."
Sometimes Laviska will try to deemphasize the importance of grades, telling students "just because you get an A doesn't necessarily mean you're the smartest or best person. There's a different path for everyone." He added, "I truly believe that God has something in mind for all of us; we all have a purpose to serve and a contribution to make."
Laviska is looking to make his own contributions on campus — beyond the chemistry department. He first read about Seton Hall's Gen1 program, which helps first-generation college students navigate college, in a Seton Hall magazine article. As a first-generation student himself, he had been looking for ways he could support Gen1 undergrads at Seton Hall. He contacted Nicole Battaglia '11, director of first-year initiatives in Freshman Studies, and together they organized several evening meetings for students this past spring with a focus on "STEM: Support, Teamwork, Encouragement and Mindfulness."
"Meetings were scheduled for an hour, but they usually ended up lasting two hours," said Laviska, who witnessed students exhibit relief when they heard others speak about the same issues and experiences they have had. Per Battaglia, Laviska even shared his own story, "which is filled with both successes and failures. This provided reassurance to students who are embarking on their own journey and experiencing college for the first time," she said.
"I try to give them a safe space where they can be themselves," said Laviska. He is a committed advocate for diversity in the sciences, working to "ensure that students from underrepresented groups are supported and made aware of institutional resources that will help them succeed."
Battaglia is grateful for Laviska's partnership with the program, noting that he's an "empowering mentor to students and a wonderful resource." She added, "Dr. Laviska is selflessly devoted not only to his work, but to his students. He is dedicated to helping all students find a sense of belonging on campus. His tireless effort to support students never goes unnoticed."
"He's not only a great mind — he's a great person," agreed Snow.