College of Arts and Sciences PPE Donations Assist Frontline Responders and Health Care Workers
Thursday, June 18th, 2020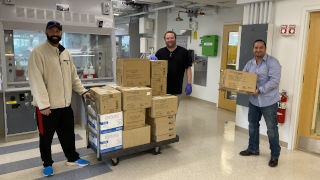 From left: Dr. Cosimo Antonacci, Dr. Joseph Badillo and Ralph Rivera loading up supplies for delivery to RJWBH.
Through the collective efforts of more than 40 faculty members, staff and administrators from the College of Arts and Sciences, two rounds of donations of Personal Protective Equipment (PPE) are a welcome addition for New Jersey's first responders and health care workers. The College gathered face shields as well as 32,000 gloves, 252 goggles and 390 lab coats in coordination with Dean Peter Shoemaker's office.
"We came together as colleagues from physics, biology, chemistry and biochemistry. Being researchers and scientists who have access to PPE, you want to do what you can to make a difference during these shortages. At such a critical time, we've taken down our interdepartmental walls and searched through our laboratories and storerooms to locate this essential equipment," said Joseph Badillo, Assistant Professor, Chemistry and Biochemistry.
The first donation was initiated and organized by Professor Roberta Moldow, Biological Sciences, and Professor Cecilia Marzabadi, Chemistry and Biochemistry, in collaboration with Jose Alvarez, Environmental Health and Safety Administrator, and Purchasing Manager Ralph Rivera, who gathered the critically needed supplies. Three cases of nitrile gloves, two cases of goggles, and ten cases of lab coats from McNulty Hall were loaded into a South Orange Rescue Squad Ambulance.
"It's is my pleasure to relay the deep appreciation of this gesture from the SORS to SHU," said Jose Alvarez.
Working with faculty from the Department of Biological Sciences, Department of Chemistry and Biochemistry and the Department of Physics, Badillo organized a second round of PPE donations to RWJBarnabas Health.
"As researchers we had PPE lying around in our laboratory that was not being used right now. It made sense to get this into the hands of the doctors, nurses, and EMT workers who are risking their own health and safety to help others," explained Badillo.
From left, Jose Alvarez and Ralph Rivera collect supplies for donation from the McNulty Stockroom.
Working with Assistant Professor Cosimo Antonacci, Chemistry and Biochemistry, Jose Alvarez and Ralph Rivera, thirteen cases of nitrile gloves, five cases of goggles, three cases of lab coats, and four desperately needed face shields were collected and delivered to RWJBarnabas Health in West Orange.
College of Arts and Sciences students are also lending a helping hand. English major and rising senior Anne Pino has spent much of her time during the quarantine making face shields and donating them to health care workers in need. "I was inspired by my mother, who is a health care worker in a nursing home. She came home expressing how in demand basic PPE is now," said Pino. "I wanted to find a safe way to help our health care workers and a meaningful, productive way to spend my time at home."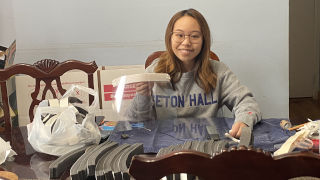 English major and rising senior Anne Pino has made and donated over 200 face shields for health care workers in need.
An aspiring physician herself, Pino took to YouTube, researching videos that demonstrated how to make the face shields. "Obviously, mine don't meet medical grade standards, but it is better than being exposed with no PPE at all," she said. With the help of her two younger brothers, she has made over 200 face shields thus far. She has also set up a GoFundMe to raise money for supplies and shipping. "The number of donations I've received has been phenomenal! I will continue to make as many shields as I possibly can with the money I'm able to raise," said Pino.
"The response to the face shields so far has been profound," she continued. "My mom brought two sample shields to work, and her coworkers, many of whom are in need of PPE, were in tears. Some even offered to buy the shield for $20-$50! That is a lot to be willing to pay for a DIY face shield, but that speaks to the desperation our health care workers are facing. I feel so touched to be able to help them during this time. They are putting themselves and their families at risk to take care of those who are sick, and if I can help in any small way, I will."
Seton Hall Alumnus Greg Ellmer, at RJWBarnabas Health, said, "We are incredibly grateful for the outpouring of support from our communities for our frontline staff and caregivers. As healthcare providers, your health and safety is our top priority, now, as always. Thanks for the support. Go, Pirates!"
Categories: Campus Life, Health and Medicine, Nation and World