Neuropharmacologist to Speak at Annual Biosymposium
Thursday, April 13th, 2023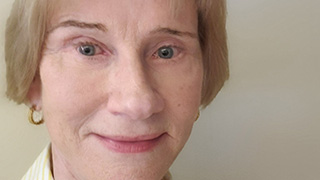 Professor Jean M. Bidlack, Ph.D.
Professor Jean M. Bidlack, Ph.D., will deliver the keynote address at the 15th Annual Biological Sciences Symposium, which takes place on Thursday, April 27 from 3-6:30 p.m. as part of the 2023 Matthew Petersheim Academic Exposition. The Petersheim Academic Expo will take place from Monday, April 24 through Friday, April 28, 2023, celebrating the scholastic accomplishment of the entire University community.

The biosymposium is open to all including students, faculty, staff, alumni, and the public interested in discussing the research projects conducted by those in the Department of Biological Sciences. First, both undergraduate and graduate students will present posters on a wide range of topics related to biology from 3 – 5:20 p.m. in Jubilee Hall, 4th floor Atrium. Following, Professor Bidlack will deliver her keynote speech at 5:30 p.m. in McNulty Hall, Room 101.

Professor Bidlack has been a professor of pharmacology and physiology at the University of Rochester School of Medicine and Dentistry since 1997 and Associate Chair since 2013. Bidlack was one of the initial four neuropharmacologists, who organized and founded the Society on NeuroImmune Pharmacology (SNIP) in 1993. She is one of SNIP Charter Members and was the president (2005) and Interim Secretary (2019-2022) of SNIP.

Since receiving her Ph.D. at the University of Rochester in 1979, Bidlack's research has focused primarily on opioid pharmacology. Recently, her lab has studied how the coupling of the opioid receptor to different Gα subunits of the G protein influences the pharmacological properties of opioids. The Bidlack lab is using bioluminescence resonance energy transfer (BRET) technology to understand how positive allosteric modulators regulate opioid receptor signaling. In addition, the Bidlack lab is studying how fibroblast growth factor 21 decreases morphine preference and withdrawal symptoms without affecting antinociception in mice.

Along with this, Bidlack has collaborated with many medicinal chemists. She collaborated with Mark Wentland, Ph.D., from Rensselaer Polytechnic Institute and other scientists at Alkermes, Inc. This partnership was focused on discovering new opioids that would be useful in clinical pharmacology. During this collaboration, the Bidlack lab helped characterize and advance the opioid antagonist samidorphan, which combined with olanzapine, received FDA approval in 2021 to treat schizophrenia. Samidorphan prevented the major weight gain observed with olanzapine alone.

Bidlack's studies have led to over 170 publications and many prestigious accolades. These awards include the Herman Friedman Founder's Award (2019) from SNIP, the Periclean Alumna Scholar Award (2004), the University Dean's Award for Meritorious Service in Ph.D. Defenses (2007), the Excellence in Research Award (2007) and the NIH Senior Scientist Award (1998-2008). She also has three patents which include "N-Substituted Derivatives of Morphinan and Uses Thereof" (2005), "Treatment of Cocaine Abuse Using N-Substituted Derivatives of Morphinan" (2007), and "Compositions and Methods for Inhibiting G Protein Signaling" (2015). For any questions pertaining to the event, please contact organizer Edward Tall, Ph.D., Senior Faculty Associate of Biological Sciences at [email protected] or Sulie Lin Chang, Ph.D., Director, Institute of NeuroImmune Pharmacology; and Professor, Biological Sciences at [email protected].

For more information about the Petersheim Academic Exposition or to view the full schedule of events and locations, please visit the Petersheim website.
Categories: Education, Health and Medicine